Saturday Ride - Chichester to The Marina
Today it was all about the weather.
There was heavy rain and strong winds all morning, but by about 11.30 the sun was out and although the wind was still blustery, Philippa as rides leader decided that the ride should go ahead as planned. Perhaps surprisingly, given the uncertain weather, there were 15 at the start, which must be a record for a November ride!!
Philippa was joined by new riders Bill, Karen and Paul, and Graham, Debbie, Suzanne, Roy, Liz, Clair, Julian, Bob, Steve, Carol, and Rachel, who came with us as far as Dell Quay.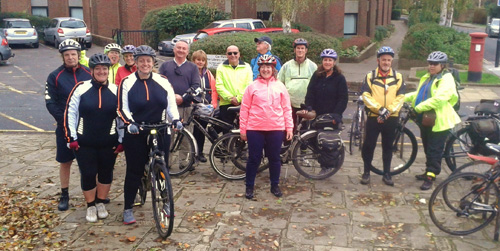 We set off over the new railway footbridge, via Apuldram Lane, then joined the Salterns Way. The wind had dropped a little and the sun had disappeared, the earlier rain still evident from large puddles along the route. We continued along the Salterns Way and arrived at the Marina without incident. However as soon as we parked up at the Boathouse Cafe, a few spots of rain started to fall. This had developed into light rain by the time we were ready to leave. Philippa led part of the group back to Chichester the way we'd come, whilst I took a smaller group back to Bognor, via Hunston, Runcton, Butterlees Farm and Aldwick.
No sooner had we left the Marina when the rain got heavier. And heavier. We arrived back in Bognor absolutely soaked, despite some wet weather gear. In fact it's difficult to recall the last time i got quite so wet on a bike ride. The odd thing was, the rain suddenly stopped as we approached Bognor, and as we came through Aldwick, I noticed the roads were bone dry. Not a drop had fallen here! And the wind had also vanished. This was to change however as on arrival at the town centre a heavy downpour started, and our brief dry respite was over. I can't really say i got another soaking as i was already thoroughly wet through, but this extra rain didn't help.
The ride from, and back to Chichester would have been around 10 miles; I clocked up 21.0 by the time I got home and was able to wring my socks out.
Graham
Posted by RideLeader at 20:48 GMT