Saturday 9 March. Ride to Wellies Cafe, West Stoke
I went on Philippa's ride today, a short report for completeness follows.
8 of us at the start - Philippa, Roy, Graham, Debbie, Steve, Carol & guests Rich and Lyn.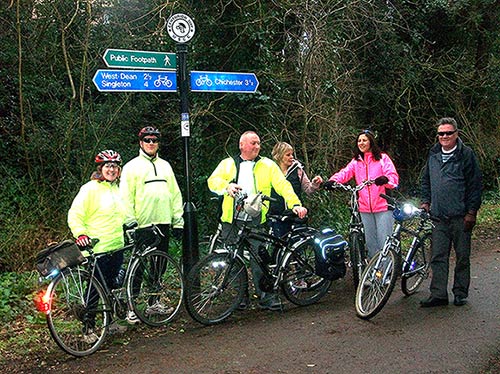 There were very pleasant conditions with little wind, temperature about 10 degrees. Although it came over cloudy there was not a drop of rain.
Philippa led this ride and took us up Centurian Way to Lavant station, then lanes around Lavant House School to West Broyle. Then it was a short ride up West Stoke Lane to our tea stop at Wellies tea rooms.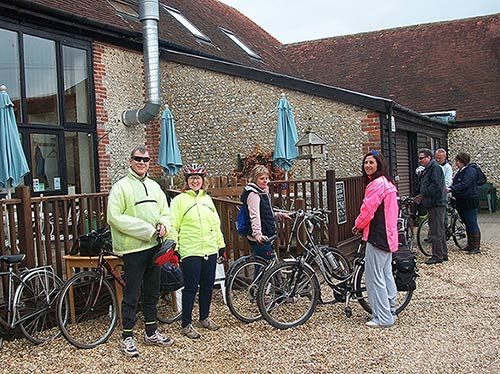 Here occurred the first of our 3 accidents -trouble, they say, comes in threes, and so it came to pass that Steve acquired a puncture. Potentially more serious however, was that whilst we were sitting downstairs in the tearooms, a saucer and cutlery came crashing down from the balcony area immediately above our table, accidentally knocked over the edge by a customer. Although only 6 inches from Steve & Rich, no damage was done - the saucer didn't even break -
but if it had hit a head, or been a teapot filled with hot water, the consequences could have been more serious. The proprietor assured us this had never happened before, however I think we will sit upstairs next time.
For the return route we continued up into West Stoke, then it was left into Lye Lane with a very pleasant downward incline through Moutheys Lane, Clay Lane, Fishbourne and back into Chichester.
Accident number 3 occurred right at the end of the ride when Steve discovered a 2nd puncture, unfortunate as we had made particular efforts to get the cause of the previous puncture completely out of the tyre.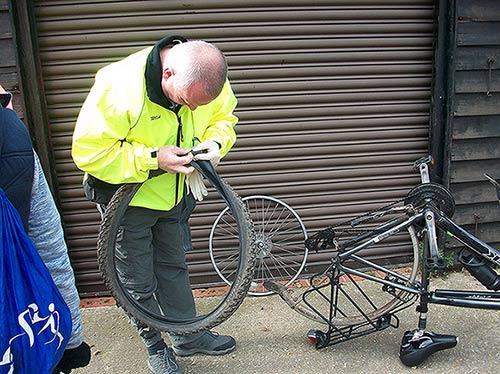 My mileage from Bognor was a tad over 26 - the round trip from Chichester would have been about 12.
Graham
Posted by RideLeader at 21:37 GMT