Sunday 6th March. Ride to Hayling Island
The weather today was mainly dry with a lot of sun in the morning and a cloudier afternoon. After a cold start temperatures managed to reach 8C.
Arthur was the leader and he was joined at Chichester Cross for the 10.00am start by Lynn, Sam, myself, Russell, Bob, Chris, Graham, Keith and Alan and Liz so11 on the day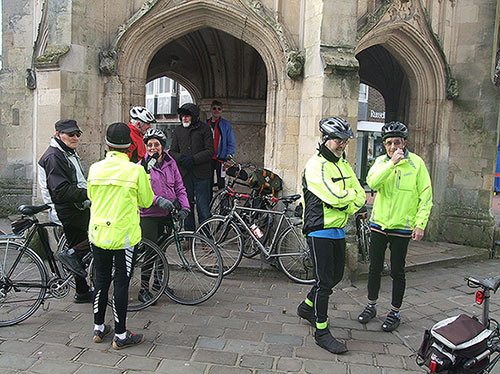 We headed out on the South Coast Cycle Route lanes along Clay Lane near West Ashling with a brief stop to regroup.
We then continued via Woodmancote and Westbourne to stop for elevenses at the Greenhouse Cafe, Emsworth. We got the outside tables on the sunny side of the courtyard and with shelter from the wind it almost felt warm.
Alan and Liz headed back from elevenses and the rest of us continued on the cyclepath alongside the main road to Havant. It seemed far busier than normal, no doubt all the mothers being taken to their lunches. We took the Hayling Billy trail from Havant and some pavements to the Bridge. There were beautifully clear views of Portsmouth in the distance. On Hayling Island we turned off on the side road to Northney and North Hayling and on to stop for lunch at Meadow Farm Nursery Cafe, Northney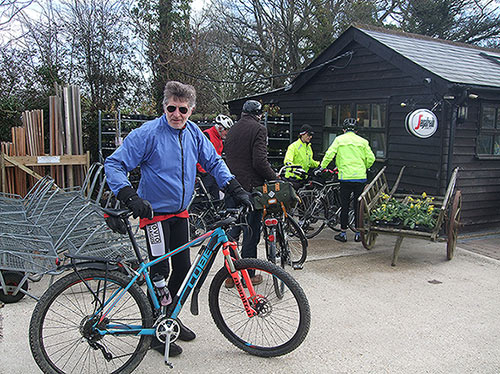 We arrived about 12.10 and about 50 minutes later Arun Adur arrived to join us just as we were leaving. Still they were able to make use of the Table we vacated. We headed back over the bridge and then a path alongside the Harbour before going under the A27 on a side road. We headed back to Westbourne on a road via Southleigh. Then it was back via Woodmancote to stop for tea at Fishbourne Roman Palace Cafe.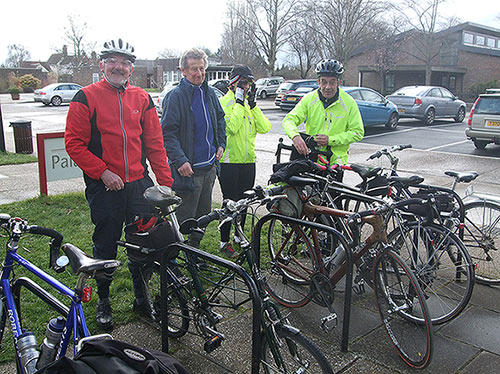 Sam showed off his bike which is for sale, not surprisingly really considering the yucky colour scheme.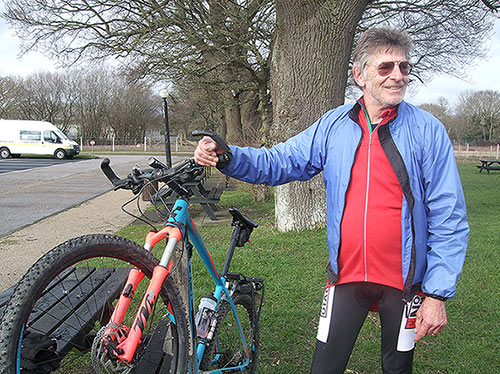 Mileage for the day from and back to Chichester was 30. My return mileage from Pagham was 42.
My latest picture was taken Saturday evening from an out of bounds location under the viaduct of the Felpham Relief Road. The new road was opened on Friday and includes a wide cyclepath on the south side.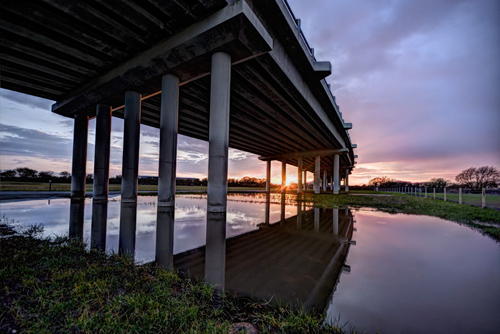 For a larger picture and more details about how I got the picture see the Cycle Bognor Facebook Page. You can view this whether or not you are on Facebook.
https://www.facebook.com/CycleBognor
On Facebook click the picture to see larger.
Edwin
Posted by RideLeader at 18:29 GMT
Updated: Sunday, 6 March 2016 18:33 GMT