Sunday 1 June 100 Mile Ride
The weather for the ride today was ideal being dry with a lot of sunny spells, temperatures up to 19C and light winds.
Arthur was the leader and he was joined by Lynn, Avryl, Jan, Graham, Sam, David Sinclair, David Glue, Martin Hines, Martin Guarnaccio, Gill Marshall and Peter. I joined the ride at lunch and Alan and Liz met us for tea so 15 riders out during the day. Team backup van (sag wagon!) was provided by Brian and Di Noyce
The ride started at 7.00am and the morning included lanes to the west with breakfast at The Boaters Bar, Prinsted.
Having ridden hundred miles many times before I decided to join the group for lunch and ride the afternoon section. I went to East Wittering via Chichester Yacht basin and spotted these 3 ducks lined up in a row by the canal lock gates at Chichester Yacht basin.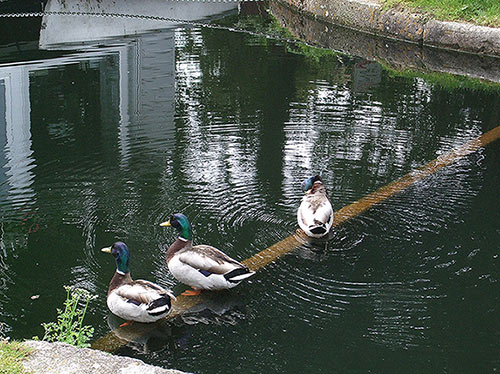 At East Wittering there were too many for one cafe so the group spread out and regrouped at a junction.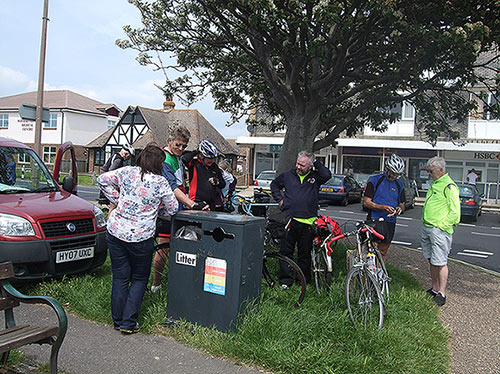 Then it was lanes up via Sidlesham and Hunston and on via the cyclepath to Bognor. Some parts of the seafront Cycleroute were used.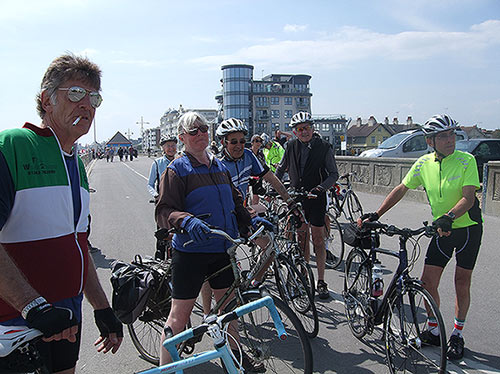 Then it was lanes out to Elmer and on to Yapton to rendezvous with the team backup.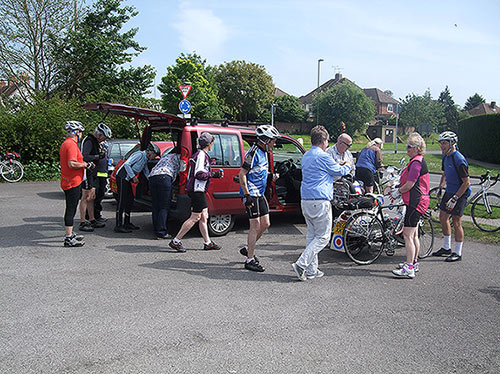 For the curious wondering what everybody is looking at here is a picture.
Then it was on via Ford to Arundel for the main tea stop where Alan and Liz met us. Lynn arrived at Arundel with a swollen knee having developed over the last few miles so the sag wagon was put to good use.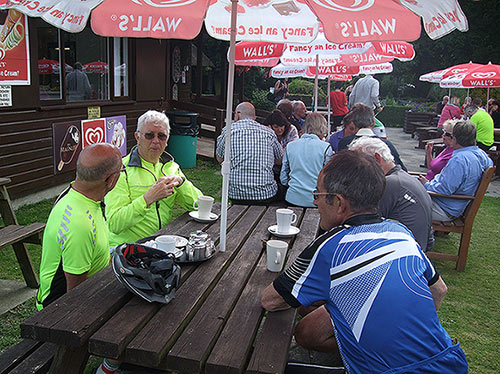 We returned via Ford, Yapton and then a brief stop in the sunshine at Walberton Pond.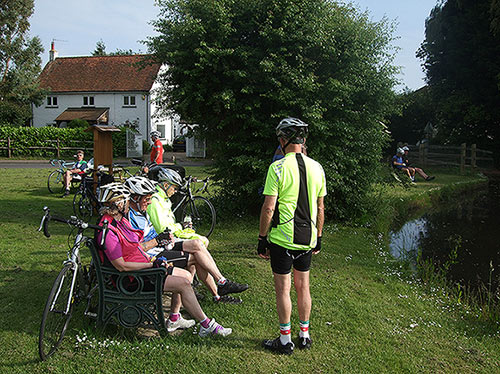 Our last stop was at Woodhorn near Oving for another feed stop.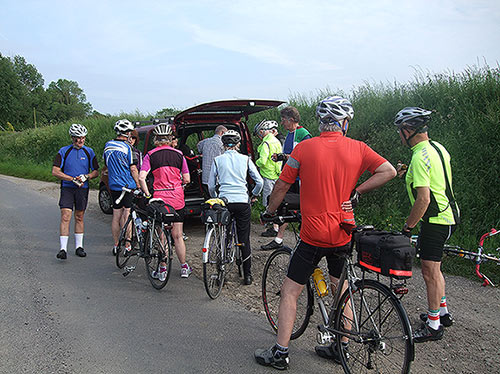 My mileage for the day was 67. Everybody else except Lynn completed their 100 miles.
Edwin
Posted by RideLeader at 00:01 BST