Sunday 22 May. DA Event. I-Spy Ride
Today was the 2nd DA Event of the year when all the West Sussex CTC Groups get together to take part in a special Event this time the I-Spy Ride organised by Horsham and Crawley CTC. The weather was fair with sun in the morning and more cloud in the afternoon. Despite showers being nearby we stayed dry all day.
I rode up to the start at Wiggonholt and I was joined by Jeff and Beatrice who were car assisted. John Maxim joined us on our team. After an early elevenses at the Cafe we gathered round to get our route sheets with the clues. There were 6 from Horsham Crawley and 5 from Arun Adur.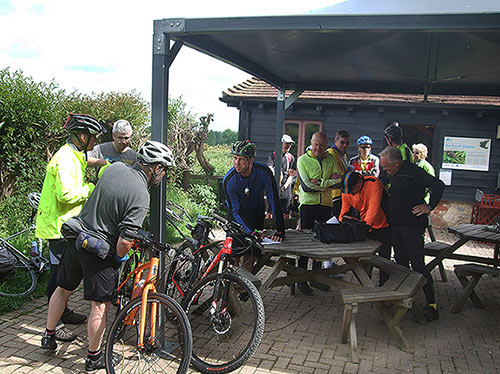 We headed out first via Broomers Hill and then across the A29 and onto lanes including Pithurst Lane. One typical clue was what time is the last collection on a Tuesday which was found on this post-box.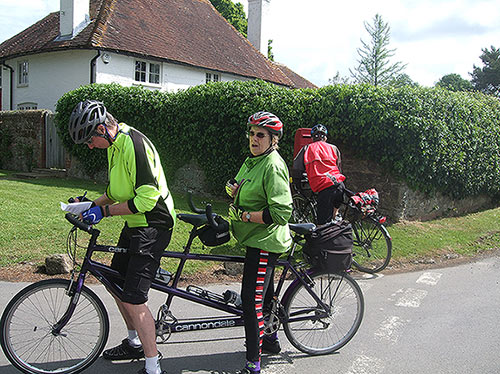 Then it was ups and downs on lanes and back to the A29 north of Pulborough. Then a stretch of the A29 with a diversion to Hardham and then a lane from Coldwaltham to Rackham. Then it was on to Storrington and what can best be described as a Tour of Storrington taking backstreets we had never seen before. Then on to West Chiltington and lunch at The Five Bells. At this stage we were 3rd behind 2 Arun Adur teams.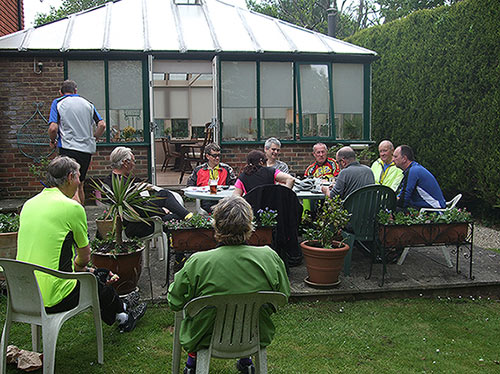 After lunch it was a shorter route first taking us via West Chiltington village and then into Stream lane and uphill along Gay Street Lane and across and then up Nutbourne Lane. In this area we passed under a beautiful tree tunnel.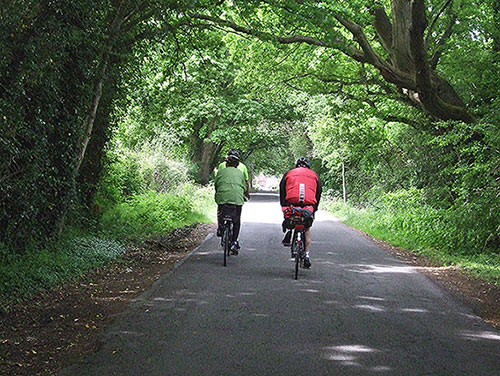 We missed an answer in Nutbourne involving Fire hydrants as the vital one was partly obscured by a parked car, pesky cars. Then it was back to Wiggonholt for tea and the results. The winners were Bob and Malcolm from Horsham Crawley.
All in all a very enjoyable day and interesting way to do a ride. My mileage from and Back to Pagham was 65. Just the I-Spy route was 25 miles.
One of my latest pictures was taken near brick Lane in London involving the Street Art image of a Hedgehog. I titled it "Really Must Get a Bigger Bike"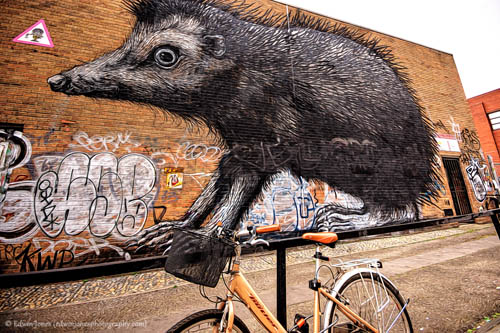 For a larger picture and more details see https://www.flickr.com/photos/edwinjones/27054151056/in/dateposted-public/
Edwin
Posted by RideLeader at 19:53 BST
Updated: Sunday, 22 May 2016 19:56 BST