Sunday 15 August. Ride to Milland
Today the long ride was to Milland. Weather was cloudy to start with but clearing to warm sunshine. Anne was our leader and she was joined at the Cross for our 9.00am start by myself (Edwin) Gill and Colin.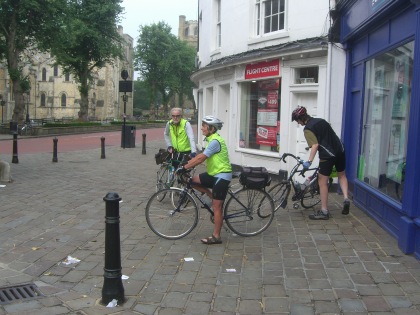 We rode out towards Goodwood and then across to ride up the Pillygreen hill. There was a road closed sign which we ignored and then various car parks in fields. In a field on our right just past the Sculptures were set up the exhibition tents, stage and funfair of the Vintage at Goodwood event. £55 per day to attend so another to give a miss to.
We continued via East Dean and Singleton and then the main road to Cocking. Here we turned off on lanes via Bepton for backroads to Midhurst and elevenses at Ye Olde teapot Café. They seem to have a thing about teapots here but good refreshments.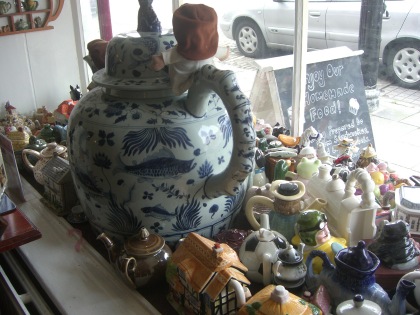 Then onwards and upwards as Anne led us up the "easy" south side of Bexley Hill and then down the 17% grade descent of the North side. On then on quiet lanes to Fernhurst and more lanes across to The Rising Sun Milland. We were joined here for lunch by Arun Adur members.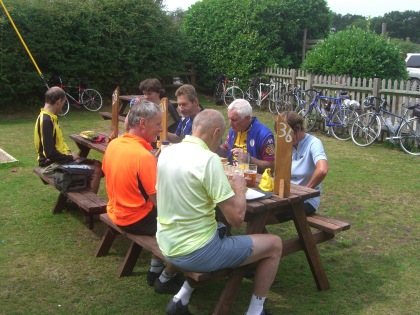 Linda also joined here having left late and arrived just as we were getting ready to leave. She rode with us for a little way in the afternoon. Arun Adur headed back towards Wiggonholt while we headed west for a few extra lanes and hills via Liss and Steep and then down to Petersfield. In need of further refreshments by this time we stopped at The Continental Café in Petersfield Square. There was a gent there on a heavy tricycle he used for trips round town with his 2 dogs ensconced in comfort on the back.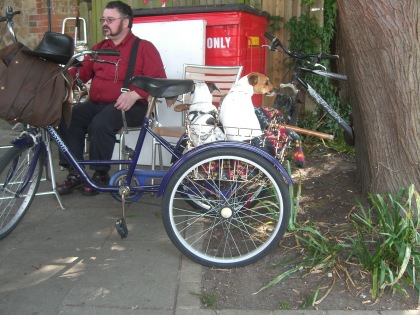 We headed back via lanes to West Harting, Harting and then Didling and Bepton to Cocking. We split up after West Dean. I headed home on the Centurion Way now cleared of undergrowth. Mileage from and back to Chichester was 60. My mileage for the day was 73.
Edwin
Sunday 15 August. Ride to Singleton. Alan and Liz leading.
We met Harvey and Robin at the Cross and rode up Centurion Way into the wind to the end then along the A286 a short way then left on to the B 2141 along there, into the wind, then right on to Hylters Lane. Up and down until we arrived opposite the West Dean PO, for 11's.Lots of people driving in to buy their Sunday papers.
We then carried on the A286 to Singleton Village Hall, checked the "menu"ate our sandwiches by the pond and returned for tea and cake. We all headed back to Chivia the Cycle path , robin went down the main road and on home via West Stoke, Harveyleft us at Lavant and we carried on to Chichester.
Return mileage from the Cross 20.
Alan
Posted by RideLeader at 22:20 BST