Thursday 1st May Evening Ride to The Gribble, Oving
It had been dull and cloudy for most of the day, with the weather constantly threatening a heavy downpour, but never actually delivering one. Until 20 mins before the ride, when the heavens opened.
However such was this short sharp shower that it had completely stopped by the ride departure time, and 7 of us left the ALC heading for Oving - Myself, Julian, John, Harvey, Carol, Steve, and special mention to Liz who came specially down from Midhurst.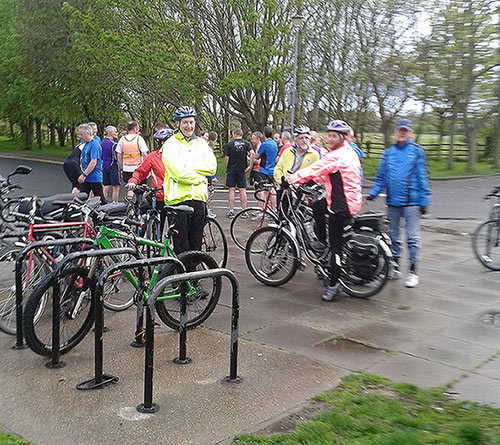 We set out around the back of Bognor through South Bersted and as we carried on toward North Bersted it became apparent that the roads were now completely dry and it had not actually rained at all here. localised weather indeed!

A new route through the housing Estate still under construction at Site Six in North Bersted kept us away from, and on the right side of, the main A259 road until we joined the cycle track at Elbridge. Then it was via Colworth and Woodhorn to run around the back of Oving and into the Gribble. Here Edwin joined us fresh from time trialling making 8 out in total.

Our return route was back to Colworth via the railway bridge, into North Bersted, then Highfield Bridge, Felpham Cricket pitch and back to the Leisure Centre, people peeling off for home along the way.

Round trip mileage from the ALC, a modest 13.5

Graham.
Posted by RideLeader at 08:46 BST