Saturday Ride - Bognor Regis library to Brick Kiln Nursery.


A dry warm April day saw 11 riders at the start point - Debbie, Galya, Julian, Alan, Liz, Harvey, Graham, David, and new riders Michelle, Paul, and Jane, all of whom we welcome and hope to see out with us again soon.

We headed out via backstreets to Bognor prom, where we turned West for Nyetimber. In this direction along the prom it became apparent how strong the prevailing South Westerly wind was, a comforting thought being we were doing all the hard work into the wind on the way out, so the return journey should be very pleasant.

We reached Nyetimber via Stoney Stile Lane, then it was Summer Lane where we stopped at the bridge for a quick picture.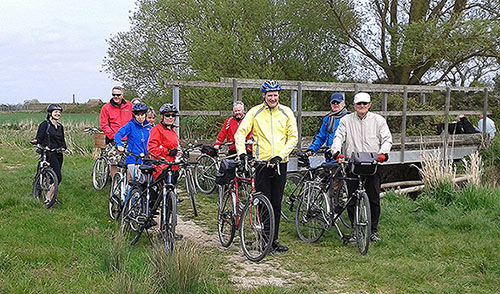 The path here was dry but had heavy tractor tyre imprints which made for a bumpy ride. However we reached the other side unscathed.

A straight run then followed via South Runcton, Green Lane, and across Merston Aerodrome to the A259 cycletrack for the sort sprint to the Brick Kiln.

Our return trip was via Colworth and the cycletrack, then around the back of Bersted to central Bognor, dropping off riders as we went. The return mileage to and from the library was 15.3.

Graham.
Posted by RideLeader at 22:25 BST