Sunday 9th June. Strawberry Tea Ride
The weather today was dry but mixed with it being cloudy and cool in the morning but warmer and much more sun in the afternoon. Temperatures reached 19C.
The Strawberry tea was hosted by Avryl at Tangmere and in all 24 attended.
I was down to lead the day ride taking lunch at Hooksway before going on to the tea. However everybody in the end made their own ways there so nobody else turned up for the start of the ride at Chichester Cross. Not to be put off by the minor technicality of having nobody to lead I set off on the ride anyway.
I headed for West Dean Gardens for elevenses taking the pleasant Centurion Way cyclepath. Sheep were grazing beside the River Lavant.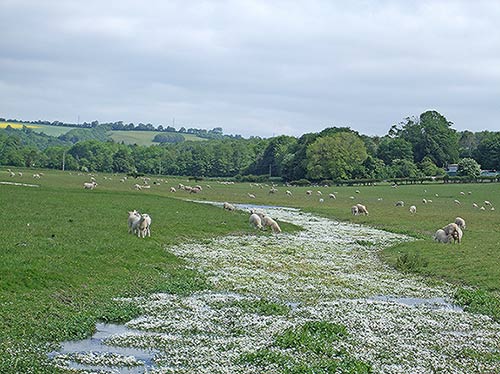 I had chosen West Dean Gardens coincidently without checking where other Sections were going. However it turned out that Arun Adur Section were due to meet us at Hooksway stopping for elevenses at West Dean Gardens. Paul Price joined me there though he was also the only one to turn out on his Sections Ride.
I had somebody to lead!! I took the route with Paul along the beautiful though hilly lane from West Dean to Chilgrove and then on to Hooksway for lunch.
Paul headed for home after lunch. I took the lane via North Marden and then East Marden and its picturesque Well.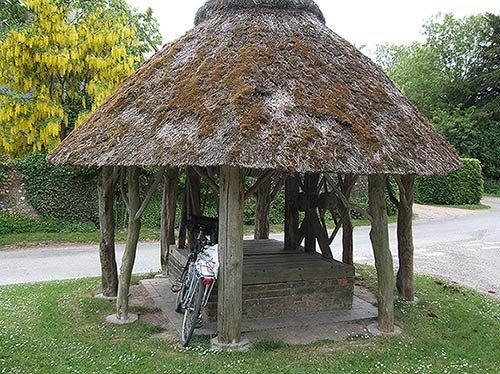 Then it was on via Stoughton, Walberton and Funtington. Then it was the lane from Funtington to West Stoke with a brief stop for a picture of the bike with a background of a Rape field leading towards Kingley Vale.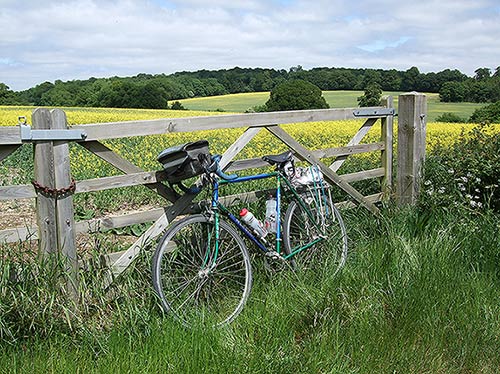 Then it was on via Lavant to Tangmere for a highlight of the year, the Strawberry Tea with Avryl. It was hard to get everybody in with one picture.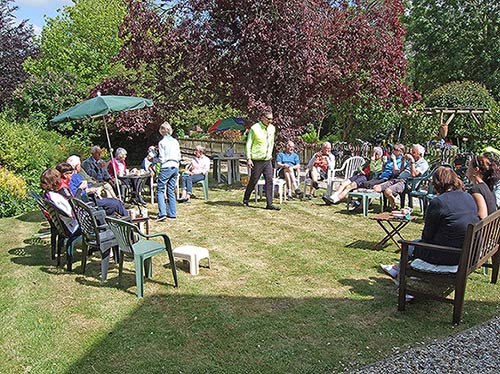 The sun came out and Avryl's garden was sheltered from the NE wind.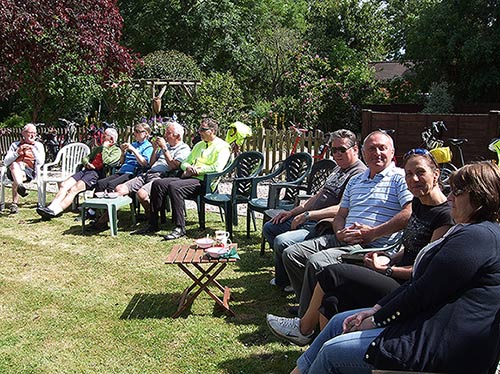 Most people had arrived by bike.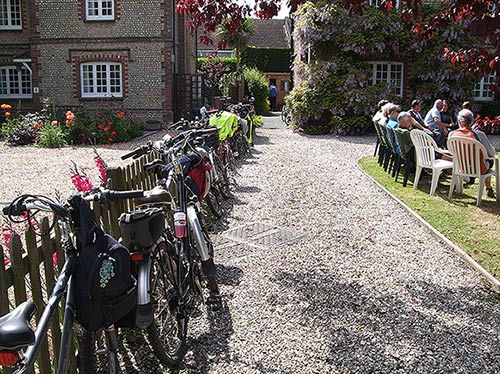 The focus of the afternoon , part of the magnificent spread Avryl laid on.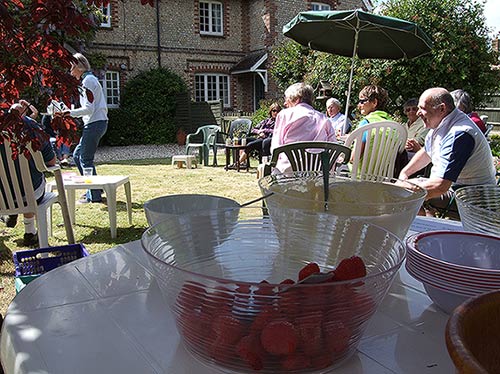 The mileage from and back to Chichester would have been about 30. My mileage for the day from Pagham was 42.
Edwin
Posted by RideLeader at 20:25 BST
Updated: Sunday, 9 June 2013 20:29 BST