Sunday 28th March. Ride to Gunwharf Quays, Portsmouth
Weather today was reasonable, dry though cloudy and reaching a mild 12C. The forecast rain held off until evening.
Now back from a much warmer Lanzarote I led the ride and I was joined at the Cross by Anne, Gill, Sue Howe and Richard.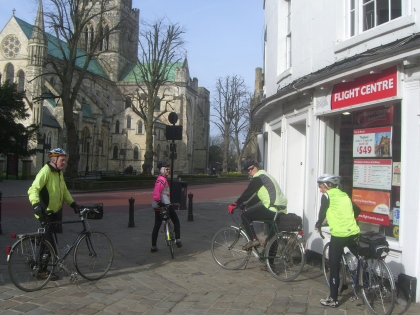 We took a route out via Clay Lane and the South Coast Cycle Route to Westbourne. Then it was a cyclepath and estate roads across to Emsworth to stop for elevenses at The Greenhouse Cafe. We were able to sit outdoors, a great improvement I gather over recent months.
Richard left us here to return home. The rest of us continued via Havant. After a special request from Anne who had Hill withdrawal symptoms we rode up Portsdown Hill with some great views across Portsmouth to the Isle of Wight. We had a brief stop in the car park at the top while I took a few pictures.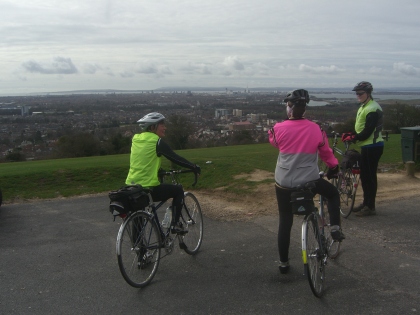 Then it was on past Fort Widley and then a long downhill to Cosham. Here we picked up the cycle route over to go past the continental Ferry Port. Then it was over to Gunwharf Quays and The Custom House Pub.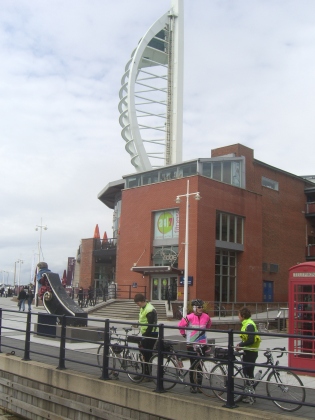 The return route was along Southsea seafront and on to the Hayling Island Ferry and a wait of about 20 minutes. The tide was flowing out like a fast river. Once over to Hayling it was various lanes and then across the Hayling bridge using the cyclepath. Then we took a path along the waterfront passing a Swan keen to peck anybody passing within range, definitely a Swan with an attitude problem.
We came out near Havant and then back to Emsworth for tea. Although only 3.00 the Greenhouse Cafe was closing so we moved across the road to Heidi's which stays open until 4.00.
After tea the return route was on the main road apart from a loop on lanes via Prinstead.
From and back to Chichester distance was 45 miles. My mileage from Pagham was 56.
Edwin
Posted by RideLeader at 20:00 BST