Thursday 8 August. Arun Leisure centre to Sidlesham, The Anchor
There were 6 of us at the start point - Carol & Steve, Tony, John, Julian & Graham. It was a lovely sunny evening, temperature about 20 degrees, with a South westerly breeze.
Our route took us through Felpham onto the prom, where we cycled the entire length to West Park at Aldwick - the first club ride along the prom since cycling was made permissive on the extended stretch to Aldwick.
From there it was Barrack Lane & Stoney Stile Lane to Nyetimber, where we took Summer Lane and the field tracks across to South Runcton.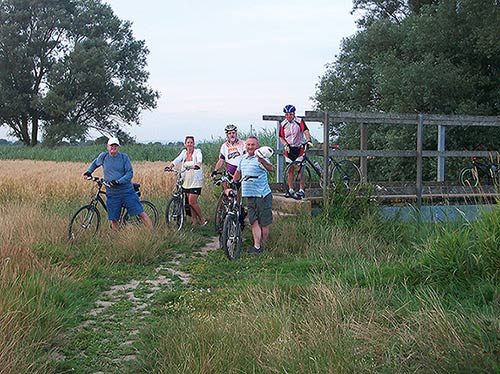 Crossing the Bridge over Pagham Rife.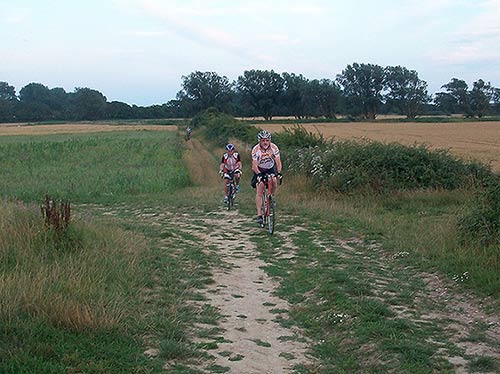 Track over fields at Pagham
Throughout this stretch we were plagued with a visitation in the form of clouds of midges encouraged by the recent weather - I counted over 6 trillion before we reached Runcton.
Then it was lanes and NCN88 all the way to Sidlesham, with a brief inspection along the way, of the site of Chalder station on the closed Selsey Tramway.
Our destination was the Anchor Inn, Sidlesham.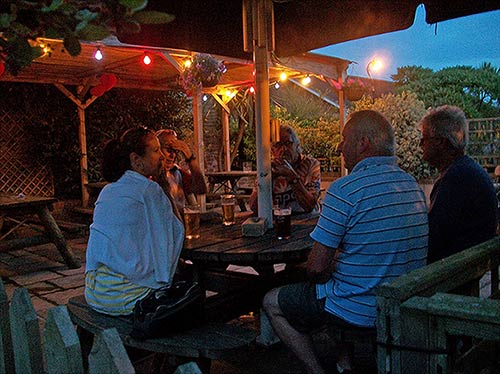 It was getting quite dark when we left the pub at about 21.20, and John & Tony opted to take the road route home via Hunston.
The rest of us decided to take the shorter route around the edge of Pagham Harbour.
We made it in the half light to the raised footpath around the harbour's edge, and from there Julian, with his brighter front light, led the pack along the narrow track. We had not gone more than 200 yards when I looked ahead and saw Julian's rear light disappearing down the embankment. However this had not become detached, in fact Julian and his bike had both headed off the footpath and down the embankment, their progress halted only by the soft sticky mud in the harbour.
Bikes were abandoned as we rushed to retrieve Julian, fortunately this was achieved quite quickly and even more fortunately neither Julian nor his bike had suffered lasting damage, although Julian's leg acquired what must be the world's largest bruise, and his jacket significantly heavier with copious amounts of mud.
We continued round the harbour a little more carefully and reached tarmac without further incident, although that was not the end of our troubles as Steve pulled up with a large puncture on the way back through Bognor. Steve is now claiming a club record for the number of consecutive punctures on consecutive rides.
After a somewhat later return than planned, my round trip mileage was 20.4
Graham
Posted by RideLeader at 00:01 BST