Sunday 14th August. New Forest Awayday Ride
A beautiful summers day, mainly sunny with a light northerly wind and temperatures up to 22C. Arthur was the leader for an Awayday ride to the New Forest starting from Eling near Totton. There was a select band of 5 of us being Arthur, Lynn, Jan Graham and myself. I cycled from home, then a train to Southampton and a cycle route to Eling. Graham cycled from home in Eastleigh and the rest came by car. Remarkably all the trains I caught were on time. Southampton Station has a new Sculpture outside which I thought quite appropriate for a New Forest Ride.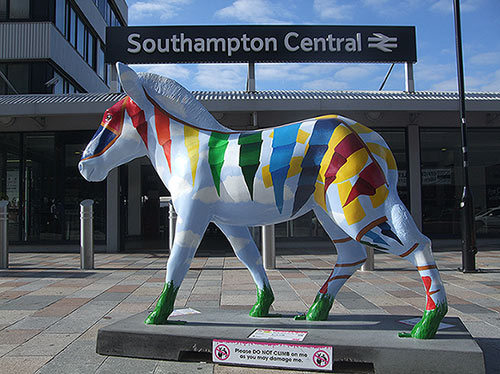 The ride had one problem at the start as our usual cafe at Ealing was still closed for renovation so we met at the nearby car park
We headed off across the forest towards Beaulieu. However here was a slight navigational error en route and we ended up in Hythe instead for elevenses where we found a cafe in the pedestrian street
We then headed up to the moorland from Hythe and across part of the New Forest for a revised lunch stop at Beaulieu. There was a slight delay as we made our way round a donkey stubbornly staying in the middle of the High Street causing a traffic jam.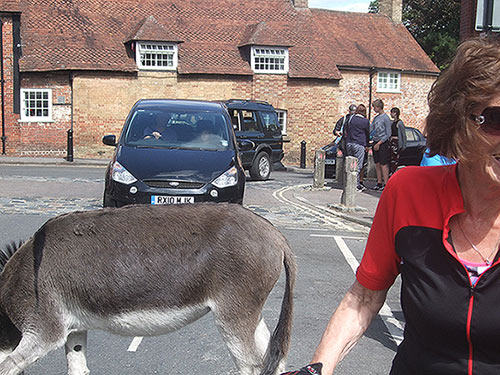 We timed our arrival just right at the Old Bakehouse Cafe in Beaulieu, which is very much a cyclists Mecca. A large group of road cyclists were just leaving as we arrived freeing up tables.
Next we had a climb up the moorland and a ride not very far at all (4 miles) to Bucklers Hard tearooms for Tea or rarther ice creams and more chatting.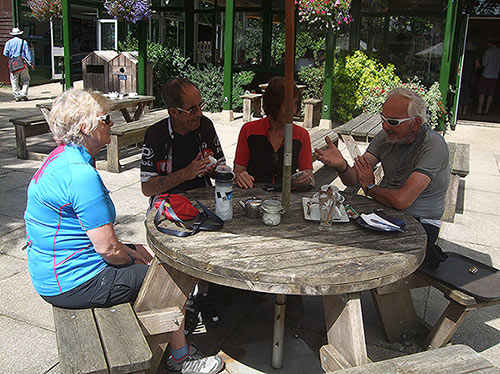 We saw an Owl handler at the Cafe, this one is a Tawny Owl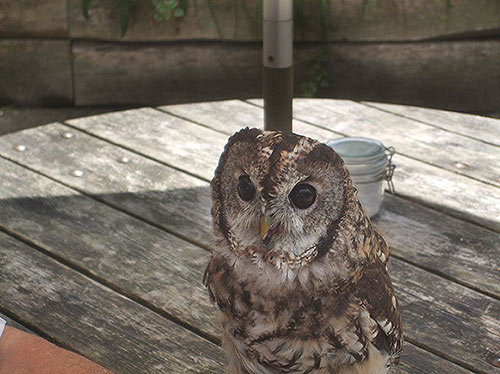 There were a few road hazards on the way back which was on the usual route via Marchwood and back to Eling.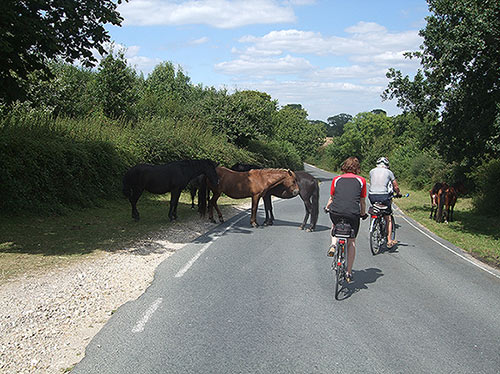 I got back to Southampton Station and got the 4.30 train back to Chichester with 3 minutes to spare
The mileage for the ride was about 27. My mileage for the day including riding to and from stations was 45.
Last Thursday evening I took this shot with a fisheye lens of the Milky Way above Pagham Harbour. Taken at 12.30am one of the meteors is caught on the left.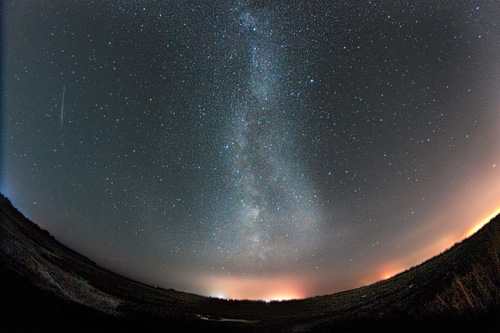 For more details and a larger picture see https://www.flickr.com/photos/edwinjones/28314559233/in/photostream/
Edwin
Posted by RideLeader at 20:44 BST
Updated: Sunday, 14 August 2016 20:47 BST