Sunday 5th June. Ride to Kirdford
Last Wednesday the ride was to Singleton. I took my SLR for taking pictures on the way to the start and on the way back. The picture below is an HDR (3 pictures combined) of Cirrus cloud above Pagham. The viewpoint is the start of the footpath to Summer Lane by the farmer's reservoir.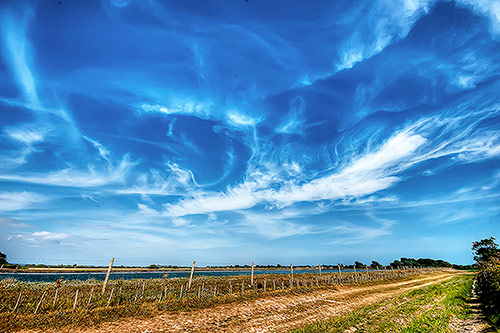 On Sunday the Ride Leader was Gill and she was joined at Walberton Pond by Edwin, Sam and Colin. The weather was cloudy and about 17C. It started dry but after elevenses light spots of rain gradually got heavier through the day especially after tea. It remained light thought never reaching the downpour level.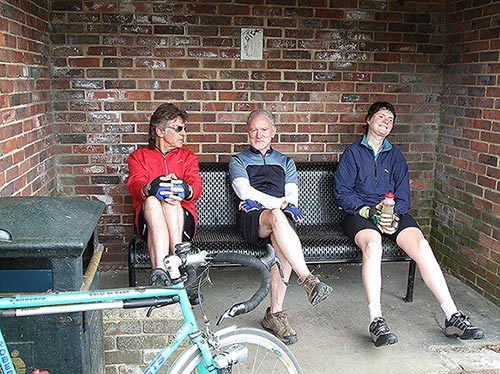 Gill led us over the Downs via Fontwell and Eartham to the Petworth Road and on to descend Duncton Hill. On the main road there were a lot of flash sports cars passing us heading back after the Goodwood Motor Circuit monthly Breakfast Meeting.
We then took lanes via Barlavington and Shopham Bridge to Petworth for elevenses at Tiffin's. With the benefit of some toasted teacakes we set off again. Just as we were leaving a group of racing cyclists on a Club Run arrived who had come from the Reigate area.
Then it was on to the Forrester's at Kirdford via Balls Cross. Arun Adur had been due to join us there but with several of their Sunday riders away nobody turned up. John Maxim arrived though to join us for the return ride. We headed back via Wisborough Green and then south on lanes and a track across fields to Lee Place.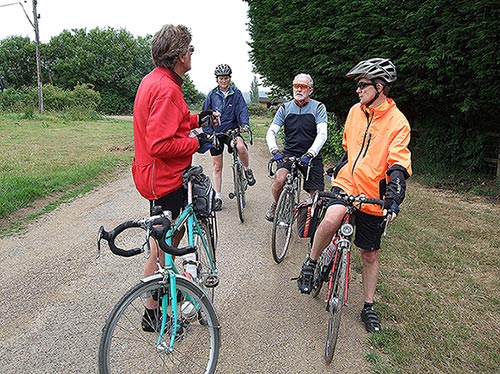 Then it was on via Broomers Hill to stop for Tea at Wiggonholt. Here we met a group from West Surrey CTC including Chris Juden the CTC technical expert.
Then it was back home via Amberley and Houghton Hill.
My mileage for the day was 57.
Edwin
Posted by RideLeader at 19:08 BST
Updated: Sunday, 5 June 2011 19:11 BST