Sunday 19th April. Ride to East Meon
Another sunny Sunday today with temperatures up to 12C. The only problem was a chilly and strong NE wind. It was more north than east so we battled against it on the way out.
Sam was the leader and he was joined at Chichester Cross by myself (Edwin) Paul, Jeff, Mark and Rex so 6 out on the ride.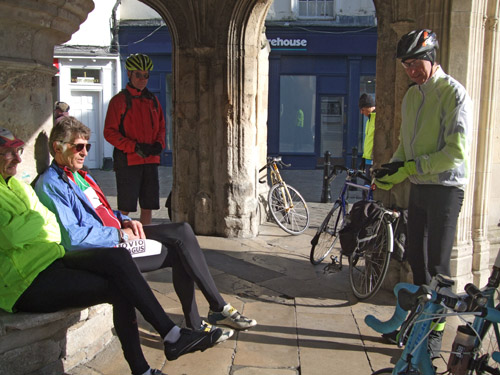 Sam led us out of Chichester up the Centurion Way and then lanes past the solar farm and up towards Mid Lavant.
The it was on via West Stoke and the rolling lane to Funtington with bluebells spotted en route. After a short climb we descended to Racton and then the B-Road up the valley via West Marden to stop for elevenses at Compton. We arrived soon after 10.00 and bagged a table in the sunshine before other cycling groups started arriving.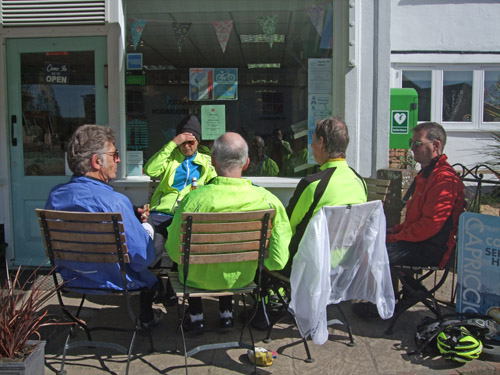 Next it was the lane over Compton Down cutting across towards Ibsworth starting with a short climb.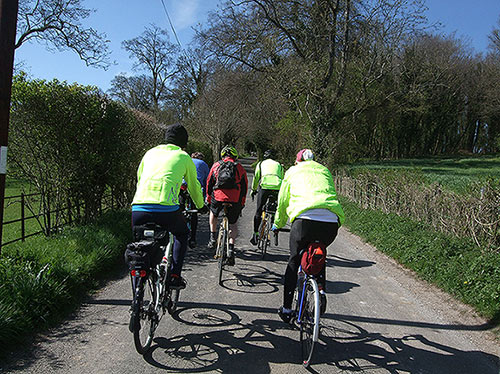 As we descended I spotted a herd of about 10 deer running in the field. They were hemmed in between the road and a line of fenced trees running parallel so they ended up running alongside us. They were trying to run away from us but we were descending at about 25mph so they ended up racing alongside us. First time I raced deer!! Sorry, not a great picture, I aimed the camera in about the right direct with the screen invisible from the sun and trying to look where I was going.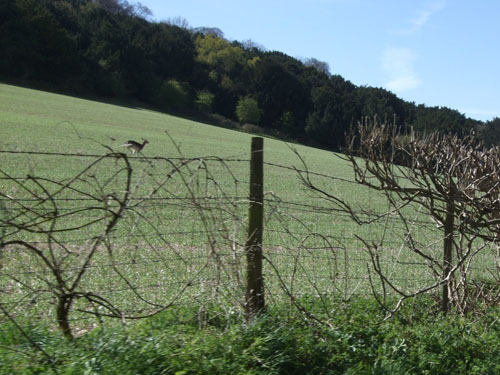 At the bottom of the hill I turned off to leave the group. After a bad cold all week I did not want to push it with too long a ride. The others continued with a climb through the woods of Buriton Hill and then lanes to East Meon for lunch. I headed back via Rowlands Castle, Westbourne and Woodmancote. I stopped at 12.00 for a picnic lunch on a bench by Chichester Cathedral. My mileage for the day from Pagham was 41.
Sam reports on the route home that after discussion it was from East Meon back to and up Buriton. Mark & Paul unfamiliar with Chalton Hill so were introduced to the joys. On to Rowlands for a tea stop & then Home the usual way. 48.5 Miles in total Cross to Cross.
My latest pictures to be processed are first one at the Lloyds Building with the light trails of one of the external elevators.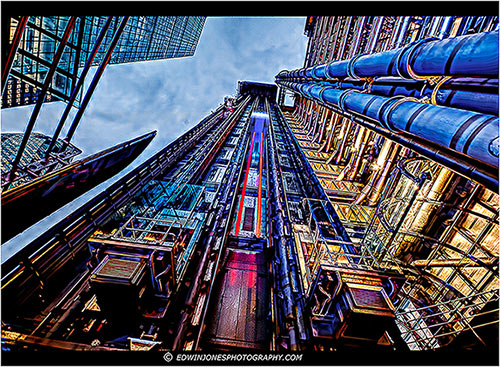 For more details see my Photo Blog at
http://edwinjonesphotography.com/blog/2015/4/3-2-1-elevator-lift-off
The next one was taken at Clapham Underground station which is one of the few with a central platform so I was able to catch 2 trains moving at once.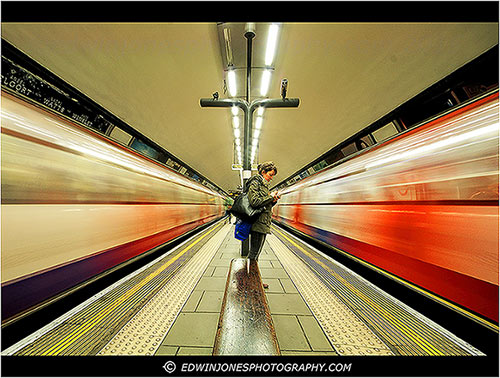 For more details and a larger picture see
https://www.flickr.com/photos/edwinjones/16960175097/in/photostream/
Edwin
Posted by RideLeader at 16:00 BST
Updated: Monday, 20 April 2015 09:00 BST