Sunday 22 March. Ride to Hipley
There were 2 rides today, a short morning only ride and a long ride to Hipley. This is the report on the Hipley ride.
The weather was pleasant and sunny all day with temperatures up to 10C. The only problem was a cold NE wind.
Sam was the leader and he was joined at Chichester Cross by myself, Jeff and newcomer Paul on his second ride with us.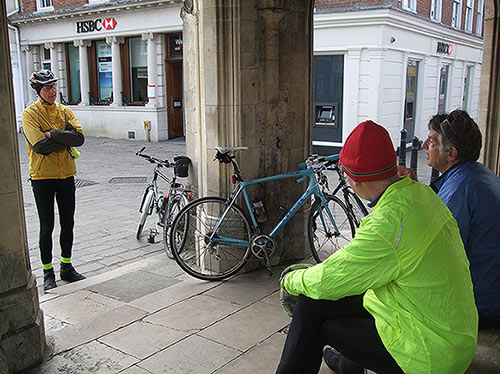 We headed out on the South Coast Cycle Route via Woodmancote and Westbourne. Then it was on lanes via Rowlands Castle to stop for elevenses at Horndean Garden Centre Cafe. On the way out Sam discovered a Health and Safety issue as his front wheel disappeared down between some planks.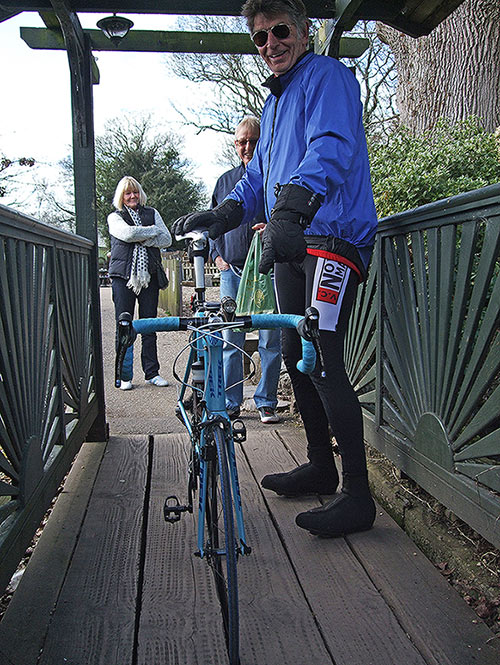 Then it was onwards via lanes towards Cathrington and then a very quiet lane running to the north of Denmead. Then it was on past the village of Worlds End (temps fate) to the Horse and Jockey pub at Hipley where we arrived at 11.30 and chatted in the Garden until they opened. When ordering we learned that the garden was closed for ordering food in case the Staff slipped on the grass. We were also not allowed to take our food out to the Garden ourselves because of "Health and Safety" (o dear!) They did though agree we could be served with food in the paved patio area.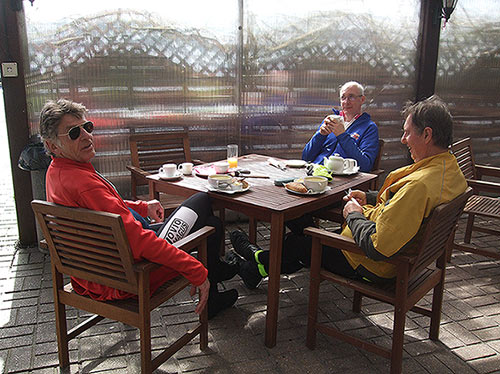 The return route took us north on a beautiful quiet lane across rolling open downland via Hoe Gate. Then it was more lanes via Chidden and Hambledon to Clanfield where Jeff suffered a rear wheel puncture.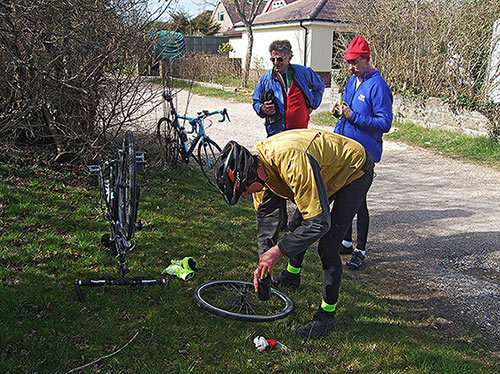 A co-operative effort got Jeff on the road again and we headed on down to Horndean and lanes across to Rowlands Castle for tea.
We headed back via Westbourne and lanes via Hambrook before joining the A259 for a fast return to Chichester.
Mileage from and back to Chichester was about 47. My mileage from Pagham was 58.
My latest picture to be processed is of the light trails of cars and buses at the junction by the Bank of England.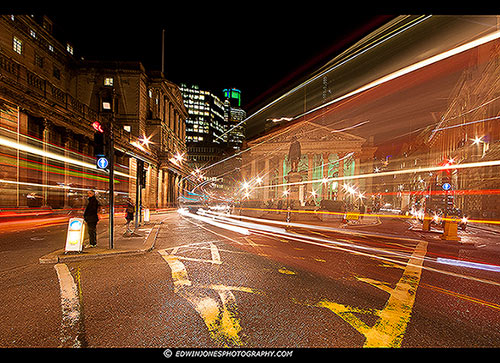 For a larger picture and more details see https://www.flickr.com/photos/edwinjones/16871113245/in/photostream/
Edwin
Posted by RideLeader at 20:09 BST