Sunday 22 December. Morning only ride to Rowlands Castle
Today it started a torrential downpour about 9.20 as I was ready to head out to Chichester Cross and didn't clear until 9.55 in Pagham. The weather forecast, weather radar and blue skies moving in from the West all confirmed the rest of the day would be fine and sunny as it proved.
I gave a miss to getting wet and put off leaving to just before 10.00 to go direct to Rowlands Castle.
Only Gill and David arrived at the Cross for 10.00. It was nominate leader on the day and Gill being the only one to know where she was going Gill was nominated. Graham also went direct after just missing them. He didn't know where he was going either so he followed the main road to Emsworth and then followed signposts.
I took a route on the backroads encountering floods, puddles and streams of water crossing the road under the blue skies. I met up with the rest at Rowlands Castle.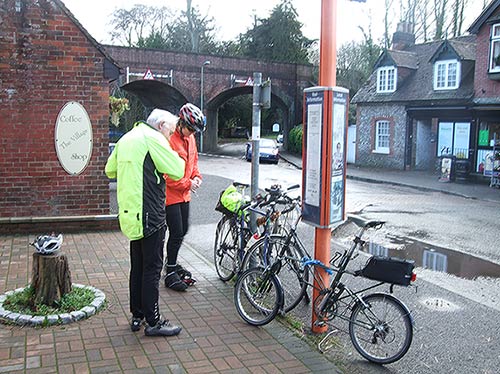 Gill led us back via Westbourne and Woodmancote on quiet if wet lanes. Knowing there was a flood on the route I rushed ahead to get a suitable picture but was still struggling to get the camera out from a pocket under layers as the group arrived. David and Graham kindly went back and did an action replay.
David asked to be going faster in the picture so I am happy to oblige, zoom effect in Photoshop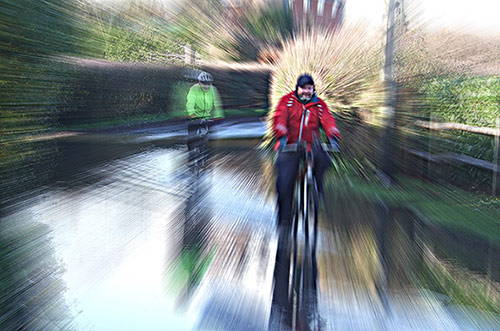 We were back in Chichester for 1.00. Mileage from and back to Chichester was 21. My mileage from Pagham was 35.
My latest HDR picture was taken at Baker Street Underground Station a few weeks ago.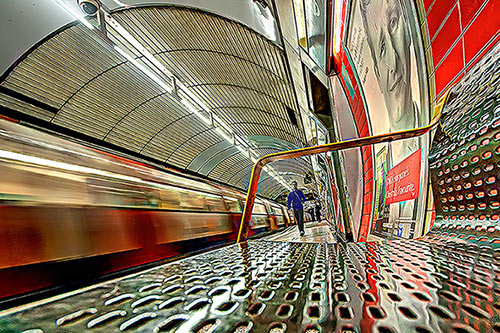 More details at my Photo Blog at http://edwinjonesphotography.com/blog/2013/12/london-underground-station-seat
Merry Christmas and a Happy New Year to all in the Club and anybody else happening across this Blog.
Edwin
Posted by RideLeader at 18:43 GMT