Sunday 4th November. Ride to Littlehampton
Sunday morning started off with torrential rain and gales, not promising. There were 2 rides planned today, a 9.30 start from Walberton for a long ride to Wiston and a 10.00 start for a short ride to Littlehampton.
With a promised improvement for later I decided on the short ride and indeed by the time I left it had stopped raining. Chichester was showing the effects of the deluge.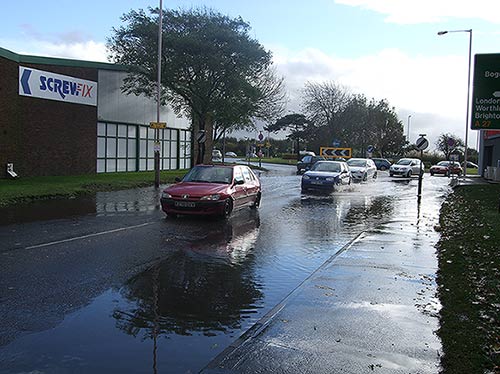 After battling against headwinds the Leader, Harvey was the only other to turn up. We headed out via Tangmere battling winds and floods! Well, not quite as we had a great tailwind. There were however many places where water was all across the road and sometimes water flowed off over laden fields down the roads. At Barnham Harvey led the way on various back streets I had not tried before to come out at the back of Lilies Cafe, Barnham for elevenses.
Then it was on via Yapton and Ford to stop for lunch at The Boat House Cafe, Littlehampton Marina.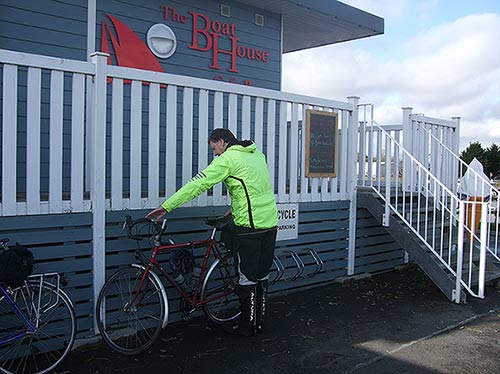 With the sun now out and decreasing winds we returned on different lanes via Yapton to stop for tea at Harvey's where his parents had just lit a warm log fire. I then returned home via Colworth and North Bersted. I call the picture below of fields flooded next to the main road at North Bersted, "Water, Water Everywhere"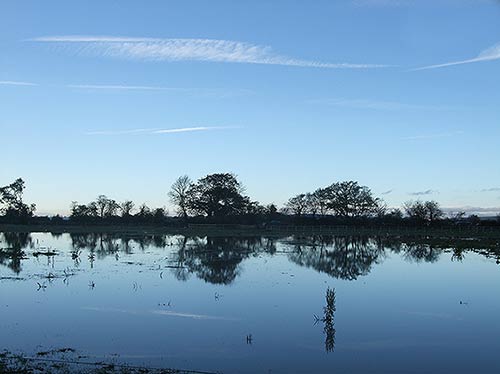 Mileage from and back to Chichester would have been about 30. My mileage from and back to Pagham was 40.
Over the last week with the occasional sunny day I had rides with the camera to take Autumn shots. Last Saturday week I headed over to Arundel. This one was taken with my Fisheye Lens looking up. It gained 12th place in the Flickr 500 most interesting Photos of the day it was uploaded. It has been viewed so far 1260 times.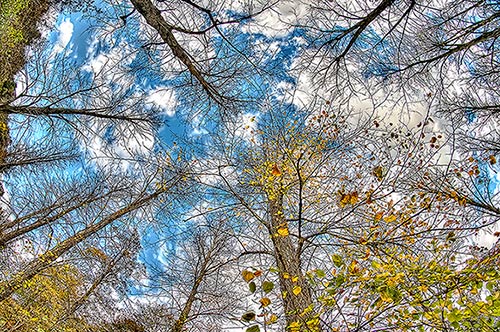 The next one was taken last Tuesday when I explored round the Pulborough area. This was taken at a pond at Nutbourne at the end of a dead end lane.
See further at http://edwinjonesphotography.com/blog
Edwin
Posted by RideLeader at 17:40 GMT
Updated: Sunday, 4 November 2012 17:44 GMT