Sunday 11 December. Ride Durleighmarsh Tea Barn, Nr Petersfield
The weather today was dry with some sunshine. It started cold at 5C with low mist over the fields as the sun rose. Temperatures later rose to 10C. Sunny skies gave way to mist and fog hanging over the Downs. The picture was taken as I left home soon after sunrise at a Pond just north of Pagham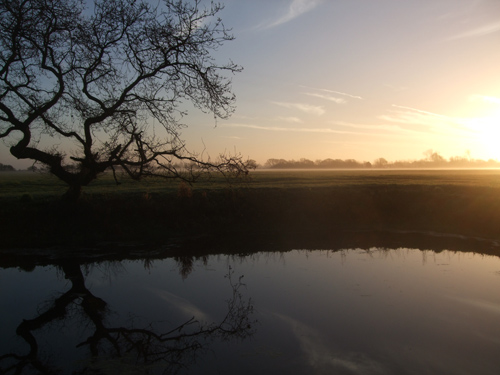 Sam was the leader today and he was joined at Chichester Cross at 9.00 by Mark, Jeff, Colin, Russell, Mike and myself making 7 out in all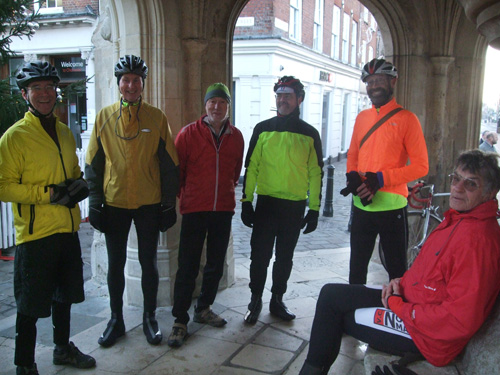 We headed out on the Centurion Way. On request Sam eased back on the Power Output of his Electric bike. Up the Centurion Way it was very quiet soon after 9.00 though at times it was hard to see the path through the wet mulch of fallen leaves. We continued on the path north of Lavant to West Dean taking the old route as the exit has not yet been built though planning consent was granted on 31st October.
Then it was on over the Downs along the main road with gathering mist. We stopped briefly at the top.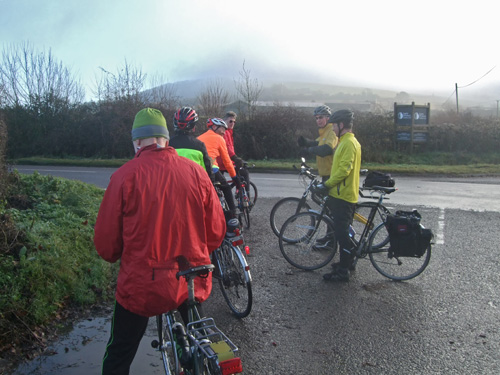 The sun returned as we headed down Cocking Hill and turned off on quiet lanes via Bepton and Severals Road up to the A272 just west of Midhurst. We followed a cyclepath beside the main road before crossing over to take a lane to Stedham and a stop for elevenses at a new cafe at Rotherhill Garden Centre. This is family owned and much better than the chain type Nursery Cafe. Sam had scouted it out and obviously made an impression as they gave us a warm welcome
My rear tyre slowly went down as we neared the cafe, good timing. The tyre is the almost but not quite puncture proof Schwalbe Marathon Plus. This is used on all my bikes and was the first puncture in about 2 years. Sam helped with getting it off and Colin helped with pumping it up thanks to his mini trackpump
After elevenses 3 of us headed straight back with myself Russell and Mike. We retraced our outward route. My mileage for the day from Pagham was 45.
The rest headed on to Durleighmarsh for lunch. A bit of offroad was included. After lunch they headed back via Ditcham Park School and Rowlands Castle getting back to Chichester by 3.00pm. The main groups mileage from and back to Chichester was 46.
Edwin
Posted by RideLeader at 16:22 GMT
Updated: Monday, 12 December 2016 09:30 GMT