Sunday 13 November. Ride to Pulborough DA AGM
The weather today was bright and sunny with temperatures up to 11C with a northerly wind.
I was the leader and it was an 8.45 early start to get to the AGM in time. Colin and Sam were at Walberton with Chris going direct so 4 out in all. From Walberton we headed out up Shellbridge Road between the woods with some beautiful autumn colours still evident..
Then it was on the lanes via Madehurst and a brief stop at the top.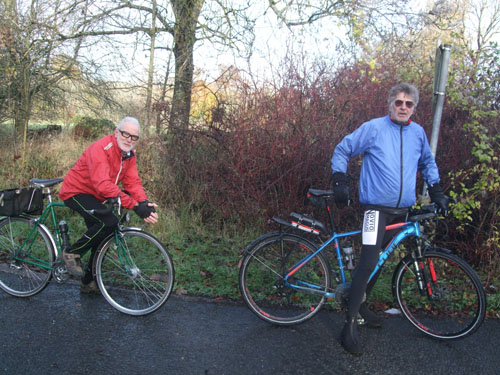 Then it was a fast descent down Bury Hill and on to lanes via West Burton and Coates. Then it was on to Fittleworth and the main road to Pulborough and the AGM at Pulborough Village Hall. Sam split off for home just before Pulborough. We observed 2 minutes silence at 11.00. Officers remained the same apart from our member Roger Cline being elected as the new auditor. I received the Cup for best attendance on Sunday rides over the Summer. Louise Galley received the Cup for best Pedaller Article and all the other Cups went to Horsham/Crawley. There was fairly poor attendance with there being 9 from all the West Sussex Groups. Chris saved the day by arriving just before the end bringing us up to a quorum of 10.
After the AGM some of us met at the nearby Oddfellows Arms for lunch.
After lunch I got a train back to Pulborough so as to be in enough time to go out again to take pictures of the Supermoon rising above Bognor Pier. With cloud forecast for the rest of the week this was the only opportunity. Today the moon rose 10 minutes before sunset which is ideal for getting a moon which is not too bright and blends in with a landscape.
For this next shot the cyclist riding to the end of the pier was a lucky break.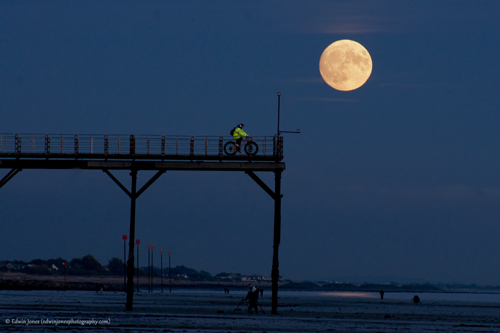 Edwin
Posted by RideLeader at 20:13 GMT
Updated: Sunday, 13 November 2016 20:16 GMT