Sunday 30th May. Ride to Walderton
The weather today was dry with sunny spells and temperatures up to 18C but feeling a little chilly at times in a strong NW wind.
Harvey was our leader and he was joined at Chichester Cross by myself (Edwin) Alan, Liz, Mark Dudman and Robin Birtley.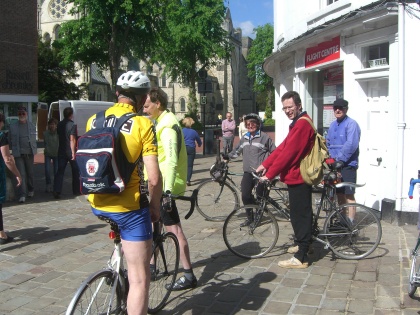 We rode out of Chichester on West Street and then the cycle path past the Roman Palace. Then it was onto the lanes winding around to come out at Bosham Harbour and round the Harbour with fine views of the village and Church.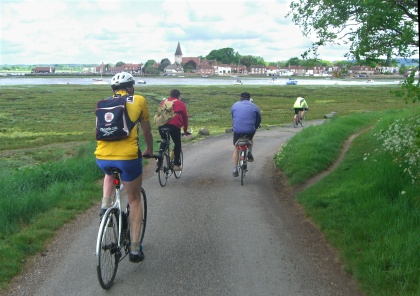 A lot of seaweed had washed up on the road which floods at high tide. This was exceptionally thick and all over the road near the village. I took a diversion onto the higher footpath to save my new Mercian from duel attacks by seawater and seaweed.
We stopped for elevenses at The Arcade Cafe. Outside were some very posh steel hammock chairs. They looked very nice until one read the price tag of £2900.
After refreshments Harvey took us up to the Bosham Roundabout and then the old road and a lane up to Hambrook where Robin left us to return home for lunch. We continued via Woodmancote and then past Racton to stop for lunch at the Barley Mow, Walderton. Alan and Liz left here to have sandwiches and then return home direct.
After lunch Harvey, Mark and I headed back via Funtington and then the quiet lane from Funtington to West Stoke.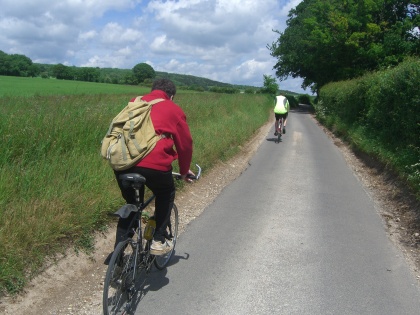 After a Tea stop at the Roman Palace Cafe we headed back into Chichester and split up to head home. Mileage from and back to Chichester was 25. My mileage was 36.
Edwin
Posted by RideLeader at 17:46 BST