Sunday 15 May. Ride to Graffham
Sorry no pictures today as my Camera failed to work.
Before dealing with today's ride I did take some pictures on Tuesday using my SLR of the Cycle Racing on the Goodwood motor race circuit. The picture below has had a few edits. The exposure was changed. It was cropped to bring the riders in closer. A white shed behind the riders was removed and other parts of the background copied over it. The zoom effect was not done with the Camera but using the Photoshop zoom blur filter moved to centre on the face of the lead rider. Anybody want a dead Bin Laden picture?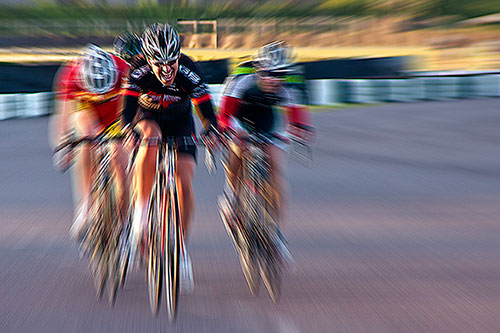 Avryl was the leader and she was joined at Chichester Cross by myself, Gill, Harvey, Chris, Roger and Andrew. Colin and Alan and Liz met us for lunch so 10 out during the day.
The weather was sunny to start with later clouding over and with a chill NW wind. Temperatures were about 16C.
Avryl took us on lanes to Waterbeach where Roger left us for a longer ride. We continued via Halnaker and Tinpot Lane to stop for elevenses at Aldingbourne.
We then continued riding over the Downs via Eartham. We saw numerous riders coming the other way taking part in the Duncton Sportive.
Then it was on down Duncton Hill and turning off on a quiet lane via Seaford College to The White Horse Graffham for lunch. We met there 3 riders from Arun Adur.
Colin joined us for the return while Chris headed east to get home to Littlehampton. We took lanes via Heyshott and Cocking and then the main road south to West Dean for tea at West Dean Gardens.
Mileage from and back to Chichester was 35. My mileage for the day was 45.
Edwin
Posted by RideLeader at 17:50 BST