Sunday 27 March. Ride to the Hampshire Hogg, Clanfield.
The weather today was pleasant with hazy sunshine light winds and temperatures up to 15C. I led the ride starting from Chichester Cross and I was joined By Roger, Colin Anne and Sam at the Cross. Gill joined us later at the Cross making 6 out on the day. Southdown Velo have started meeting at the Cross. They are the fast boys in red jerseys in the background of the picture.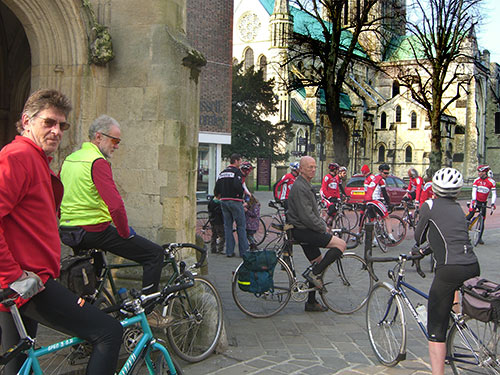 The route out was via the Centurion Way, West Stoke and Funtington. We were heading for Compton for elevenses. However I took a little diversion going via Walderton and then the long climb and pretty lane up to West Marden. Some enjoyed it but Sam seemed a little unhappy after overdoing it yesterday with a long ride to Arlesford. Good to see him back on form.
After recuperating at the top of the climb we headed down to Compton for elevenses at the Post Office Tea Rooms.
Then we cut across to Idsworth and a very sharp climb to Chalton. Then another climb to the A3 crossing for lunch at the Hampshire Hogg.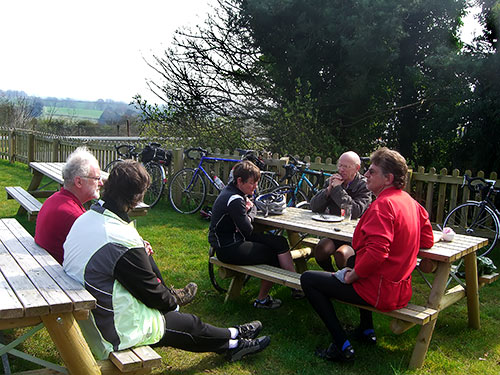 The afternoon ride was a lot easier with more flat and downhill. We went back to Chalton and then Finchdean and Rowlands Castle. Then it was on to Stansted for tea. They are doing a lot of work there with a big extension for the tearooms.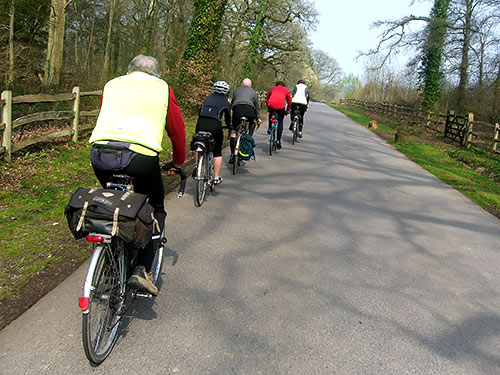 The return was via Westbourne and the usual Clay Lane route.
Mileage from and back to Chichester was 40. My mileage was 53.
Edwin
Posted by RideLeader at 19:10 BST