Lanzarote. Week to 12th March
This week temperatures were about 20C. It was quite sunny on the coast but more cloud about inland. On Friday there was the first rain of any consequence in about 6 weeks with a heavy thunderstorm. The prevailing winds here are generally NE which comes off Morocco and the Sahara making it settled warm and dry most of the year. The last 2 weeks the wind has been west or SW winds bringing in more cloud.
On Sunday I did my longest ride of the week to Mirador del Rio at the far north of the Island. I started early about 8.20 and rode up the quiet main road and then on to San Bartolome at 1000ft. Then it was down to Tahiche and the smooth road the LZ1 a little way in from the coast running north to Arrieta. With a light wind from the SW I had a tailwind. It was a long climb from Arrieta at near sea level to Mirador del Rio at 1600ft. I arrived about 11.30 before it was too busy with Tourists.
I had my SLR and tripod with me to take HDR pictures. .(High dynamic Range of light using 3 different exposures of the same scene combined in software to get more detail especially in shadows) There is a nice cafeteria at the Mirador with expansive picture windows looking out over the 1600ft cliffs and across to the Island of Graciosa.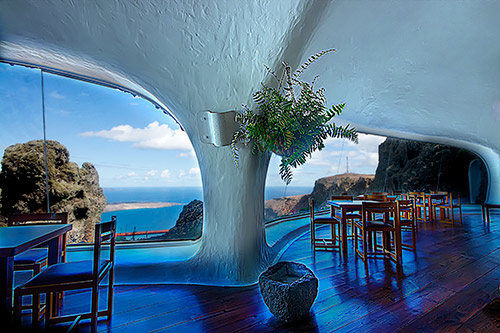 The picture below is looking back up the west coast of Lanzarote with La Santa on the horizon. On the right is the adjoining small Island of Graciosa. The shallow water between the Islands produces the beautiful blues in the sea.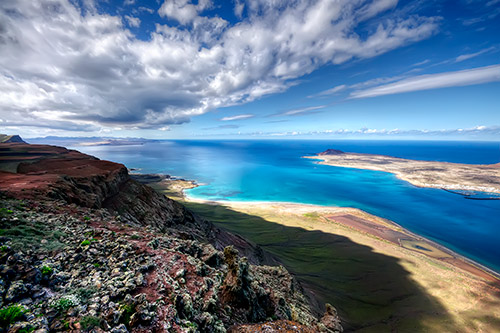 The picture below is from the highest viewpoint on the roof of the Mirador building.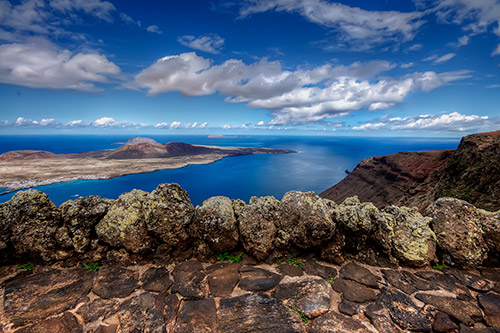 The days ride was 67 miles with 4000ft of climbing.
On Wednesday I did a ride climbing to the plateau at 1000ft and the vineyards of Geria. Then down to the SW coast and El Golfo. I did not take my SLR intending just to ride but ending up taking a few pictures with my compact. On the way to El Golfo I passed a group of cyclists who seemed to be setting up an impromptu Time Trial. They were passing me at about 1 minute intervals. Fraid I wouldn't have done very well as I kept stopping to take pictures.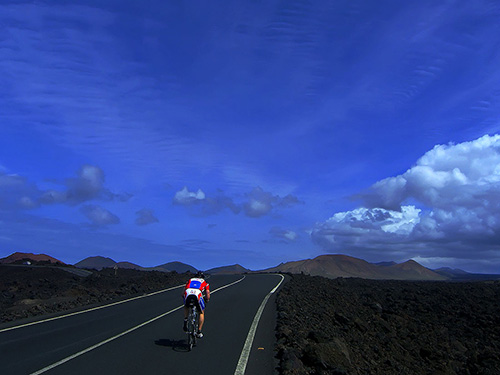 I stopped for a picnic lunch on the beach at El Golfo. On the way back I passed through the town of Uga and a bit of luck spotted a Camel train heading back after a morning of carrying Tourists at the Volcanoes National Park. I would say this is a fairly unusual No Entry sign!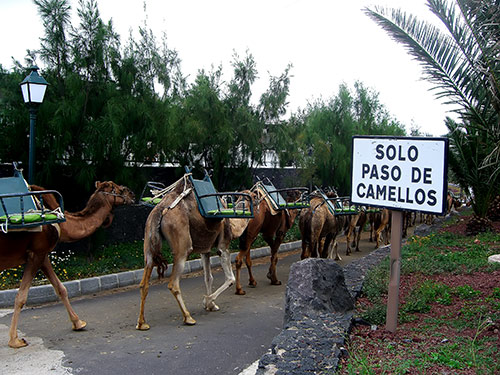 Today I did a short half day ride. I had thought of making another visit to the Crater but decided I had a lot of unprocessed pictures from earlier trips. This is an HDR picture I processed today.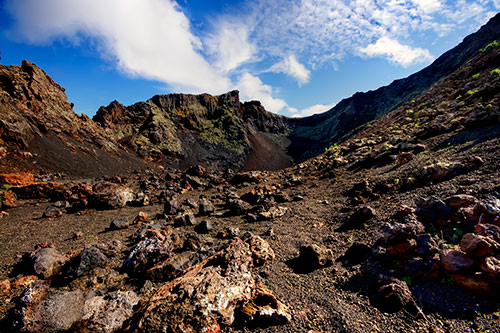 146 miles for the week
Edwin
Posted by RideLeader at 16:40 GMT