Sunday 2nd December. Christmas Lunch Ride to Hunston
Today there was an 08.30 start Appetite Improver Ride to Compton for elevenses and then the Christmas Lunch at Hunston. As the alarm went off I wondered whose silly idea it was to put down an 8.30 start ride on a cold December day, oh yes, mine and I was due to lead it.
The day dawned with clear skies and cold, well freezing really, with a widespread frost. Temperatures were about -2 in the countryside increasing to +5 later in the morning.
Survival guide for the artic weather cyclist. Five layers including 2 coats, woolly hat under the helmet, 2 pairs of gloves. For the feet 2 pairs of socks, plastic bags, shoes and overshoes.
My plan which actually worked was to stay on B Roads, hopefully salted and avoid hills until it warmed up. However I approached Chichester with hopes that nobody else would be daft enough to turn up for the ride so early on a cold morning so I could retreat to a warm cafe. Didn't pan out though, Sam and John Maxim turned up.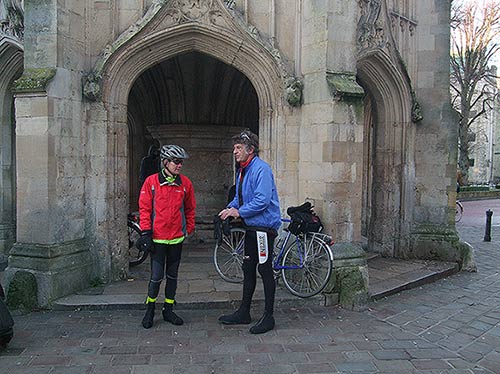 We headed off up via the Northgate Roundabout and then the B-Road via East Ashling and Funtington. I mentioned to Sam that you could tell the salted roads from the wet sheen on them, to which Sam replied unless its ice, oops.
We continued though Funtington avoiding the hill and took the next right to head on via Racton. It was a beautiful morning with bright low sunlight and white frost covering everything. We continued up the B-Road via West Marden and arrived at Compton at about 9.30. The cafe opens at 8.30. Our refreshment break/warming up break lasted for an hour. When we exited Sam's tyre was flat as a pancake.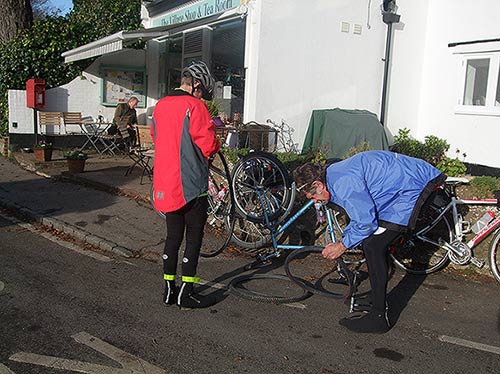 When we left much of the frost and ice was melted. We headed back via Funtington, Watery Lane and West Ashling. Then it was Clay lane back to Chichester. John left us there and Sam and I continued to Hunston via the Canal Path to arrive in the Pub Car Park at 12.00 precisely, better than Horsham Section!
There were 14 for the lunch with some arriving by car and others coming direct by bike. The meal was excellent, tasty with substantial portions.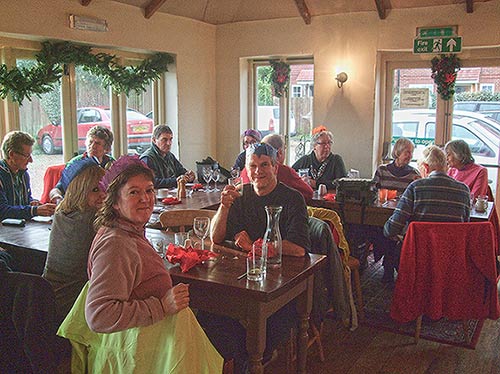 My mileage for the day from Pagham was 37. Mileage from and then back to Chichester after lunch would have been about 30.
One footnote to the day. When I got home I heard a noise upstairs, first thought burglars! The noise came from the spare room/computer room and came from behind a half closed curtain. Behind it was a bird, quite big, about the size of a thrush and it had those kinds of markings. I opened a window drew the curtains and it found the way out. The big mystery is that all doors and windows were firmly shut. The loft hatch was shut, the chimney is sealed off. When I went out in the morning I shut the vestibule door before opening the outer door and the inner door was shut when I got back. Answers on an E-Card only or to me as an extra question for the Christmas Quiz by Dave and Arthur at the Club Night this Thursday.
Below are my latest HDR pictures both taken with a fisheye lens. The first is City Hall, London's South Bank and the second is a stairwell at Embankment underground Station.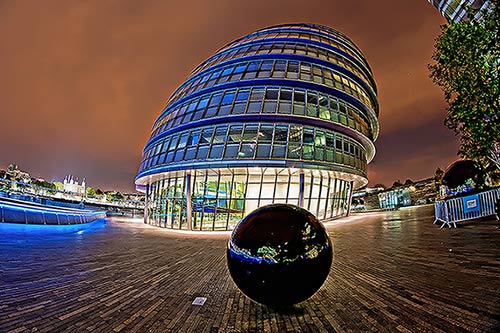 ..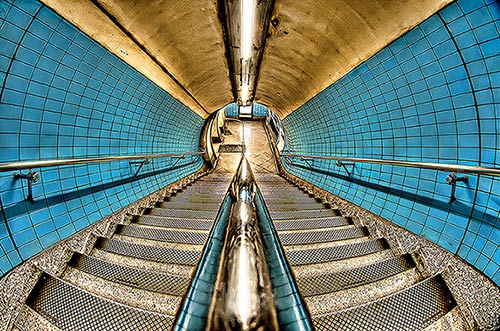 More details at
http://edwinjonesphotography.com/blog
Edwin
Posted by RideLeader at 18:00 GMT
Updated: Sunday, 2 December 2012 19:35 GMT