Sunday 3rd July. Jubilee Sunday
Arthur was due to lead a ride to Compton today. I later heard from him that nobody turned up and the ride was abandoned. I think a combination of the weather and competing Jubilee Celebrations.
That applied to me as I headed up to London for the Thames Pageant. The bike only as far as the Station and then I took a train to Victoria. This was a direct train and the big advantage of starting at the first Station is getting a seat on a day like today.
My enthusiasm did not stretch far enough to get up very early to get a good viewpoint. After checking out view points on Google Street view yesterday I headed for the Albert Embankment on the South Bank near Vauxhall Bridge. There was a slight rise on a grassy area, enough to get some view behind a crowd about 6 deep in front of me. I was there by 12.00 with the Pageant due to start passing at 3.00 so more crowds built up behind me.
The view was good enough to see the boats coming by but not good enough for clear pictures with waving flags, people's heads and everybody else, like me holding their cameras above the heads in front of them.
Below are some of the better ones. First there is the Heralds Barge.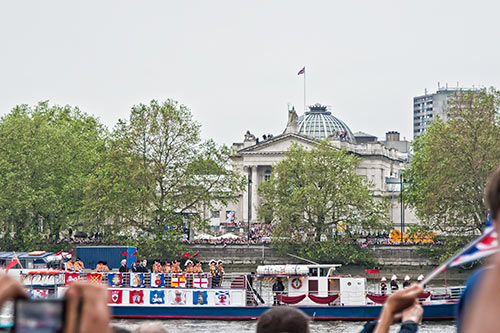 Next is the Royal Barge where I think the out of focus flag in the foreground adds to the image.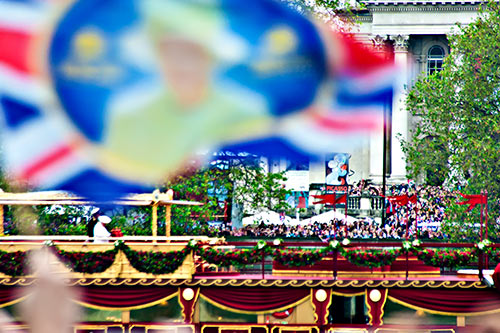 Last the one picture I got of a boat free of obstructions. This is the Minden, a former Dutch Fire Boat which coincidentally is normally moored in Emsworth Harbour.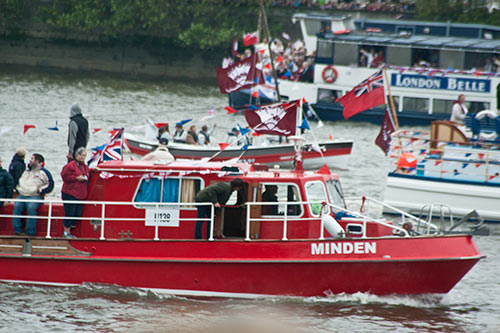 The day had been dry so far with just a few spots of drizzle and dampness in the air. I was lucky as the boats had just about all passed when the heavens opened and I walked back to Vauxhall Tube Station with a few thousand others and made good use of the umbrella I had carried all day.
Edwin
Posted by RideLeader at 21:54 BST
Updated: Sunday, 3 June 2012 22:02 BST