Saturday 13th May 2017 – Ride to The Design Vintage Cafe, West Stoke
The weather dawned sunny and breezy for an afternoon ride to The Design Vintage Café in West Stoke.
Fifteen cyclists gathered at Chichester Library, and a warm welcome was given to a couple of old faces, Dawn & Fred, who hadn't been out on their bikes for a while.
The group headed west towards Westgate, picking up The Centurion Way cycle path towards Lavant. After cycling through the old Lavant Railway Station, the group continued north along Lavant Down Road, and then crossed over the A286 Midhurst road to head west along Two Barns Lane towards West Lavant.
At the junction with Downs Road, West Lavant, the group headed west towards West Stoke and arrived at The Design Vintage Café just after 3 pm.
The café was rather overwhelmed by the number of cyclists descending on them, so there was a bit of a wait for tea and cake!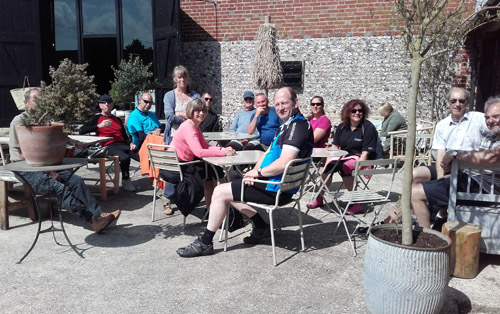 The route back to Chichester was fairly short.

Turning right out of The Design Vintage Café, the group carried on for a short distance and then turned left and headed south down Lye Lane towards East Ashling.
At the junction with the B2178 Funtington road, everyone carried straight on down Moutheys Lane towards the junction with Clay Lane. The group then headed west back towards Chichester over the railway crossing and along Westgate, to arrive back at the library at approximately 4.45 pm.
Philippa
Posted by RideLeader at 00:01 BST
Updated: Monday, 15 May 2017 16:40 BST