Sunday 9th April Ride to Barnes Green and Freewheel Event
The weather today was beautiful with clear blue skies and temperatures inland over the Downs at 23C and on the coast up to 15C. There was a SW wind which was troubling on the way back.
I was the leader for the 9.00am start from Walberton Pond and I was joined only by Sam though Bob Birtwell joined us accidentally after tea. A local walking his dog and chatting to us was persuaded to take a picture of us.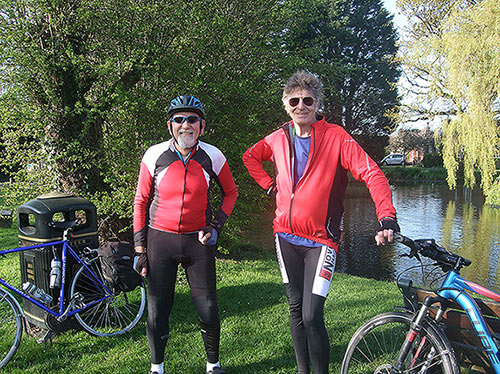 We headed out on the usual route via Madehust and down Houghton Hill to stop for elevenses at Wiggonholt. Then it was a very direct route on lanes via West Chiltington, Broadbridge Heath and Coneyhurst to Barnes Green. We arrived well before anybody else at 11.45 and went to the Green where I had sandwiches. Then on to join the other Clubs at the lunch stop at Sumners Pond Cafe.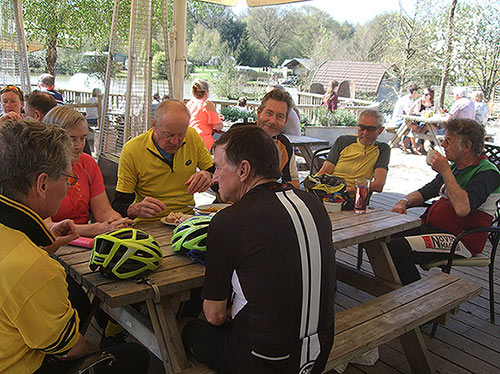 We all cycled to the Freewheel Hill where you start off with one pedal revolution and then freewheel downhill and as far as possible up the next slope. There was some talk about the weight of Sam's electric bike giving an unfair advantage. Possibly extra weight has a limit before the drag on the upslope counteracts the speed. Sam came in second.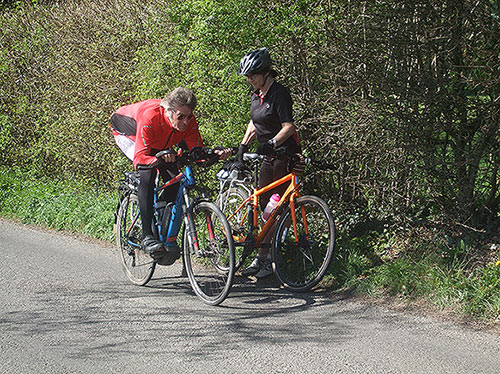 Pipped at the post by Bob of Horsham Crawley.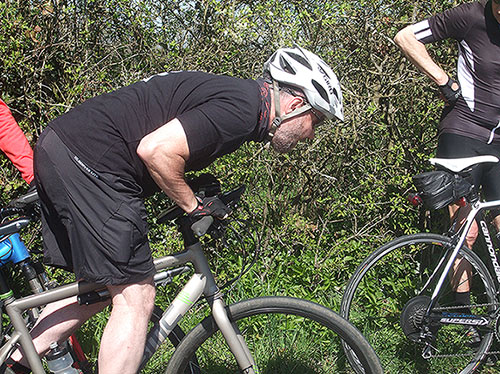 Only 9 took part in the event from the 3 clubs despite the great weather or perhaps that was a draw to do other things.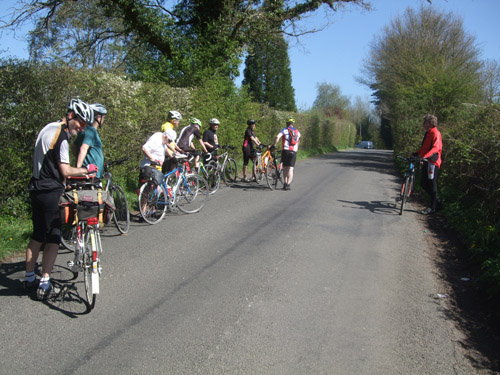 We headed back afterwards via Wisborough Green and then a track across fields to come out on a lane north of Pulborough and on to Amberley where we stopped for tea and coincidently saw Ray and Jo from Arun Adur out on their own ride. While we were stopped Sam took the opportunity to fit the spare battery he was carrying to make sure he had enough electric assist to get home.
Then it was on to Houghton and the track to Arundel nicknamed the Khyber Pass. At the top we spotted Bob recuperating on the grass. He joined us for the rest of the ride home.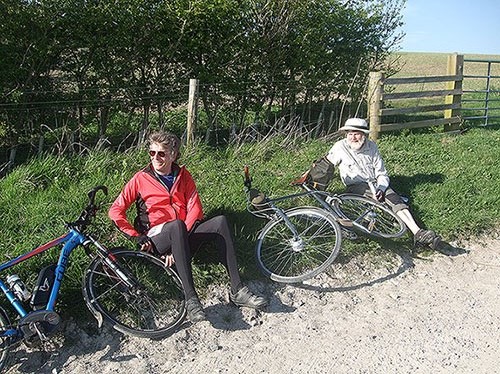 I split from the others at Yapton to head down to the coast and the Prom Cycleroute where a sea mist had rolled in making is distinctly cold. The sun was low as by this time it was 6.30. The distance from and back to Walberton was 52 while my mileage from Pagham was 68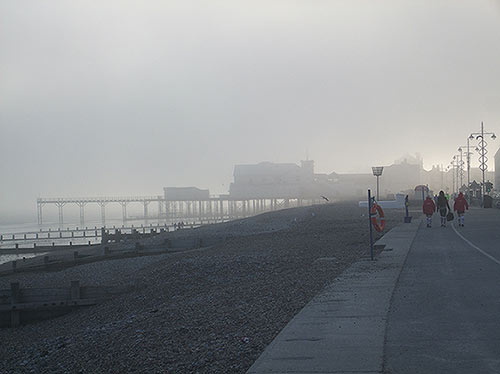 It was busy day on Saturday. This started with a ride over to Ford to get a shot of a steam Excursion train in the early mist at 08.45.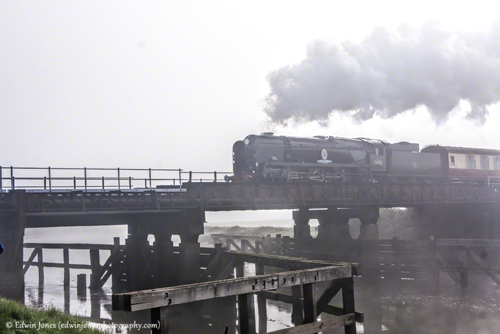 In the early afternoon some of us joined a Rally against over 1000 extra houses at Pagham adding to the local traffic. I had just in time got hold of a nice banner from national HQ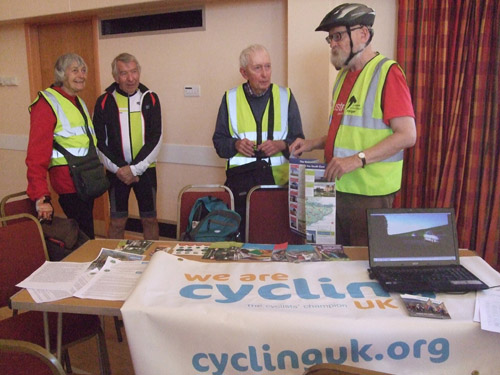 Edwin
Posted by RideLeader at 00:01 BST
Updated: Monday, 10 April 2017 10:20 BST