Sunday 31 May. Ride to I-Spy Ride
The weather today was wet with light drizzle interspersed with heavier spells of rain. It cleared up by afternoon. Rex was the leader and we met 08.30 at Walberton Pond. I was the only one to join him. We headed out via lanes before a short stretch on the A29 and then up the lanes via Madehurst. Then it was down Houghton Hill and lanes via Amberley.
The 11s and start point were at Wiggonholt and we were about a mile short when a very loud noise came from my back wheel as everything jammed up. I managed to stop without falling off. A gear change had resulted in the derailleur being torn off the frame gear hanger. The gear hanger was also bent and the chain half broken. I cannot be accused of having mechanicals by half's.
We spent a while at the roadside removing the bent derailleur and trying to set up a single speed but without success. I walked to Wiggonholt and got Rex to ride ahead to tell everyone else. There were just 4 from Horsham and 2 from Arun Adur. Bob advised they were going to just go for a ride and cancel the event. Possibly award points to those who turned up at the start. Very kindly Pete Eyre gave me a lift to Pulborough Station. In line with my emergency procedures for total bike breakdown I got the train to Chichester Station where they have black Cabs which take bikes and got the taxi home.
Looking back to sunnier times I visited Goodwood Motor Race circuit on Tuesday evening to take pictures of the cycle racing. I used a zoom effect in Photoshop to focus the image on a club mate from Bognor Regis Cycling Club.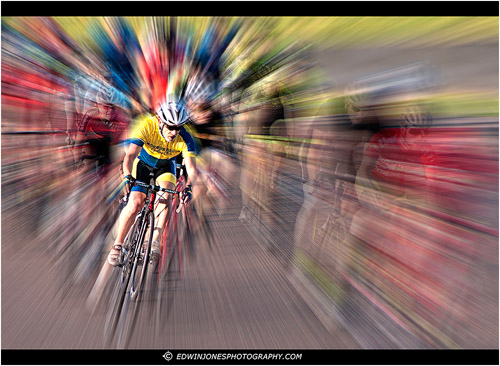 More details and a larger picture at https://www.flickr.com/photos/edwinjones/18163556216/in/dateposted-public/
Edwin
Posted by RideLeader at 14:26 BST