Saturday 28 March. Ride to Arundel
The weather forecast for today wasn't very good, but it did indicate there wouldn't be any rain during this afternoons ride. Dull and windy it may have been, but you couldn't fault the forecast as no rain actually fell. CycleBognor's "no-rain" guarantee held!
Considering the overcast and windy conditions, it was a good turnout with 9 of us at the start point. I led Steve, Carol, Liz, Bob, Clair, Dave, Nicola and new rider Rhonda out through the back streets of Bognor, to the new estate at Felpham, where we took the cycletrack to Barnham. From there it was Walberton and a brief stop.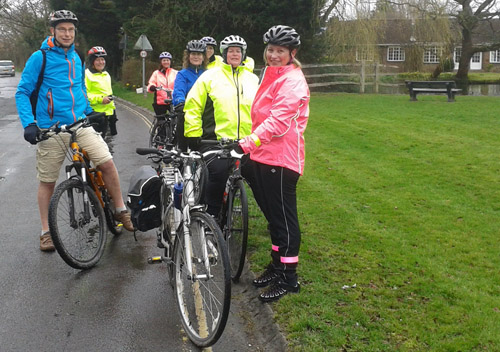 Then our way was blocked by what appear to be emergency roadworks completely blocking the street. I'm not sure how the buses got through, but there was just enough room for us to walk the bikes along a very narrow pavement and carry on.
Our route continued through Binsted and then beyond the tarmac and past the Madonna pond to rejoin the road on the other side of Binsted Woods, where we took the cut through to Torton Hill, dropping down to meet the A27 at the Ford Road roundabout. Then it was 200 yards of pavement, under the bridge to Fitzalan Road, and into Arundel Town Centre. A slight change of venue followed, as we were directed to Rounds Cafe, which made for a very pleasant stop.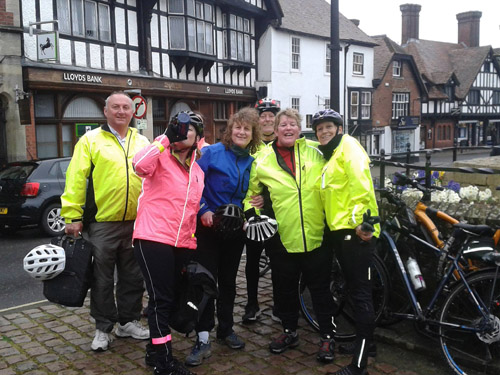 Most of the outward route had been with the wind, and but the return meant we would be against the wind nearly all the way, and not much shelter from trees. So we took a shorter route back via Ford station and Yapton, then via Bilsham to Middleton & Felpham. The wind was gusting up quite a bit, so it was slow going. Rhonda peeled off at Yapton to return home, the rest of us soldiered on back to Bognor.
The round trip mileage from and back to Bognor library was 23.2, a little longer than our normal Saturday afternoon rides. I had clocked up almost 30 by the time i got home.
Graham.
Posted by RideLeader at 00:01 BST