Sunday 17th April. Ride to East Meon
The weather today was colder than of late but sunny much of the time with a NW Wind.
There were 2 rides today. The short ride was led by Arthur to Emsworth and brought out 12 supporters. The long ride was led by Sam to East Meon and he was joined by myself, Jeff, Paul and Russell. Gill joined us at lunch so 6 out on the ride and a total of 18 for the 2 rides. David was at the Cross early for the short ride and took the picture.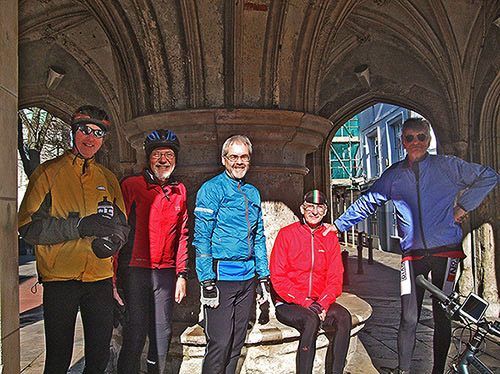 We headed out on the South Coast Cycle Route lanes via Woodmancote and Westbourne. We passed Rowlands Castle and luckily we were not heading there for elevenses as a massive bunch from South Downs Velo had just arrived. We continued via Finchdean and then the gradual climb through the picturesque Buriton Woods.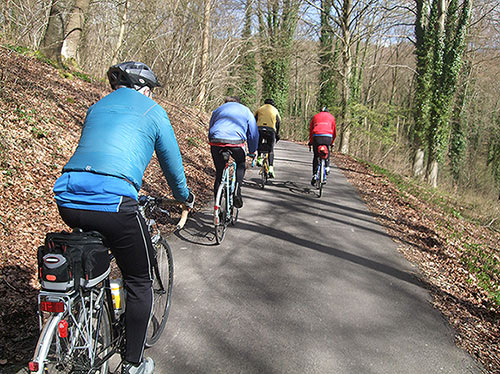 We continued to Petersfield where we stopped in the Square for elevenses. Then it was on via a cycleroute over the A3 and past the Harrow before a long stiff climb to the appropriately named Steep Village. Then it was a lane to Stroud and a short stretch of main road before turning off on another lane to Ramsdean. As we entered the village Jeff got a good shot of a barn plus Sam and I just about in the picture.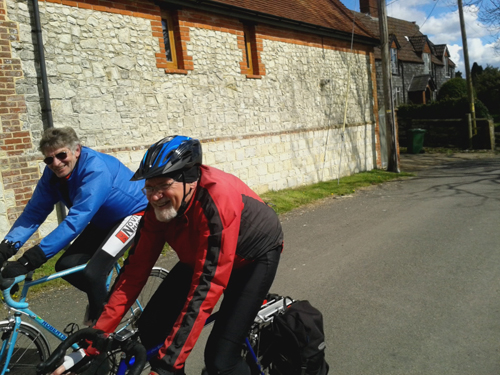 We continued on lanes to our lunch stop at the Isaac Walton, East Meon and enjoyed a break in the sunshine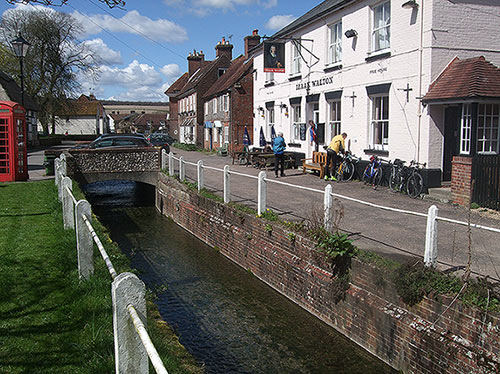 Gill joined us for the return which took lanes leading up to the ridge road of HMS Mercury. There were some steep sections on the way up.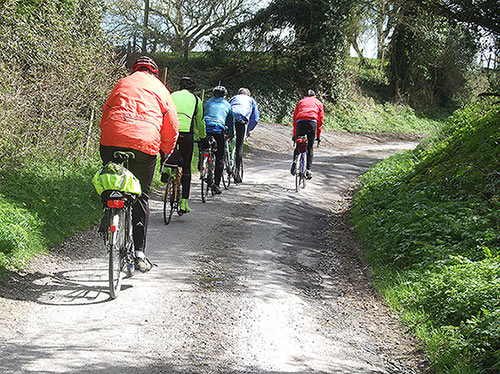 Then it was down to Clanfield and lanes across to Chalton and then down to Finchdean. For the second week running Sam was beat at the sprint for the Rowlands Castle sign, this time only just by Paul. We continued to stop for tea at Rowlands Castle Cafe.
The return to Chichester took our outward route. I peeled off at West Ashling to go and look at the Bluebells in West Stoke Woods partly to scout out a future photographic expedition. Lesson for that, leave the bike at the road and pack wellies in the panniers, the path was very muddy.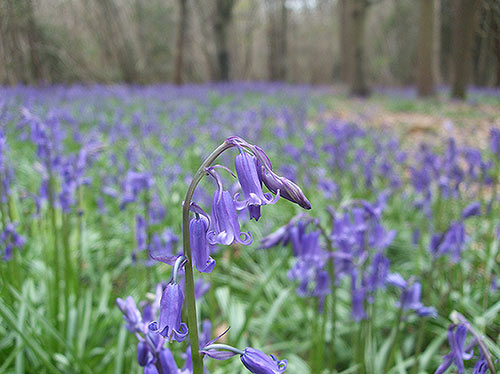 The mileage from and back to Chichester would have been about 48. My return mileage from Pagham was 68.
Last Friday on a trip to London I took in a tour organised by the London Transport Museum of closed off platforms at Kings Cross Station and hidden areas of the station including this giant ventilation shaft. Film buffs might recognise it as a location used in the filming of James Bonds Skyfall.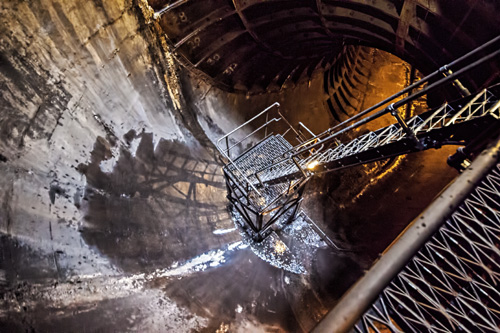 Edwin
Posted by RideLeader at 20:23 BST
Updated: Sunday, 17 April 2016 20:33 BST