Halloween Ride
Mood:
on fire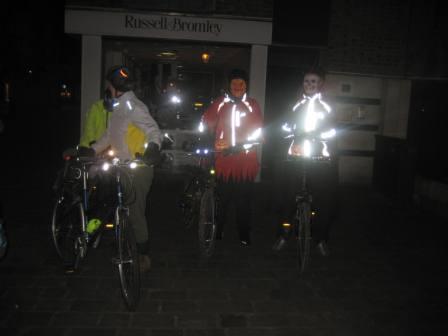 Despite a precautionary Jack o'Lantern, Phil, Mary, Linda, Gill, Richard Carlisle, and Brian and Sue Howe were joined at the entrance to the cathedral graveyard by two fearsome looking ghouls on bicycles. The evening was clear and cold but not perishing.
This was to be an evening of culture as well as cycling. Mary started proceedings with a desciption of the performance of Dr Faustus in the grounds of the Cathedral. We headed south and took the canal towpath stopping briefly near the old swing bridge for Mary to describe various romantic aspects of the canal. The story was embellished by Linda who also had to pacify a startled neighbour.
We continued to Hunston followed by the two ghouls and turned right to cross the peninsula to Chichester Marina. Mary then served pumpkin soup and pumpkin bread whilst we gazed out over the channel and Phil explained the significance of smuggling to the local economy in the mid-eighteenth century. We noted that the ghouls seemed partial to the soup and pumpkin bread and speculated that they may be distant ancestors of Dave and Louise Galle.
We then headed north towards Appuldram, crossed the old A259 and the railway, then headed up the Centurion Way. We stopped again briefly by the metal workmen while Phil described the rise and fall of the Chichester to Midhurst railway. We then continued north to West Dean and the Selsey Arms.
The ghouls joined us in the bar and the landlord seemed happy to serve them since they had the appropriate currency. We left the pub at about 10 pm and returned via the main road, noting the smugglers memorial outside the rugby ground as we passed.
A jolly evening was had by all. We were delighted to have so many guests with us (including the well-mannered ghouls).
Posted by RideLeader at 23:24 BST
Updated: Sunday, 30 November 2008 20:04 GMT