Sunday 11 September. Ride to Selborne
The weather today was dry and mainly sunny with temperatures up to 20C and a light southerly wind.
The Leader was Sam who was joined at the start by myself, Colin and Jeff. Chris joined us later making 5 out in all. Our usual start and seats at Chichester cross was blocked off by repair work being done to the monument due to last for 10 weeks. We met instead at a nearby seat.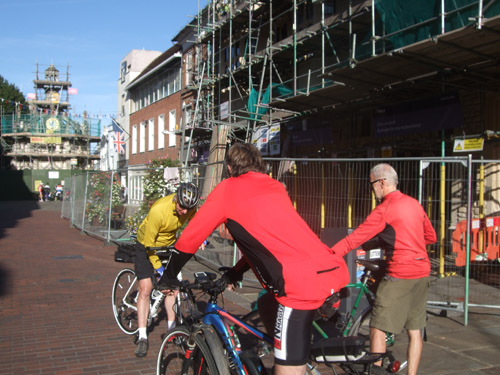 Sam lead us out on Clay Lane and the usual South Coast Cycleroute lanes via Woodmancote and Westbourne. Then it was on via Rowlands Castle and Finchdean. Riders on the Southern Sportive were coming the other way. We turned off for the climb over the Downs via Ditcham Park School. At the top is especially remote from everywhere and notably quiet.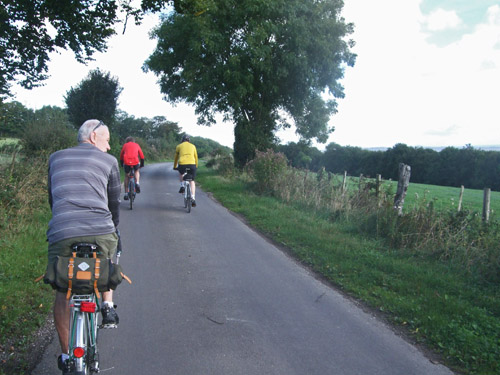 After descending to a short paved section of the South Downs Way we took in a steep descent with hairpins down to the B2146 near South Harting. . After a short ride towards Petersfield we turned off onto more out of the way lanes via Goose Green (2 houses)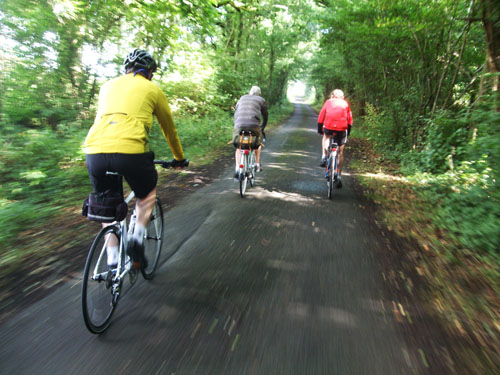 Then more lanes to the A272 and straight across to Durleighmarsh and a short way up a lane to Durleighmarsh Tea Barn on the grounds of a farm for elevenses. As we were leaving Chris arrived to join us. I left for home at this point wanting a shorter ride. The rest continued via Hill brow to the Queens Head, Selborne for lunch.
My return took in West Harting, South Harting and Elsted to turn off onto the lanes at the foot of the Downs via Didling and on to Cocking. On the way back I stopped off at West Dean to look at where the planned new exit will be to the new section of the Centurion Way, currently a dead end. The plans with the planning application show this on the SE bank of the old railway bridge down to the lane to Chilgrove from opposite the Pub. There will be steps with a wheeling ramp for bikes. Below is a stitched panorama of shots. It looks like the steps will follow the existing path coming up from the bottom right of the picture. Rather than then follow the old path shown in the picture the steps will go on to the far left and then take a right-angled right turn to climb the bank to the path.

The mileage for the main group from and back to Chichester would have been between 60 and 65. My mileage from and back to Pagham was 53.
My latest picture is a shot taken in July at a small Wildflower Meadow by West Park Bognor.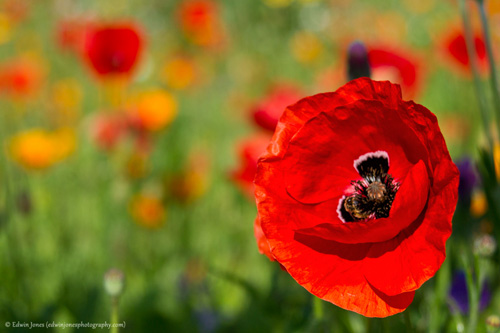 For more details see
https://www.flickr.com/photos/edwinjones/29430361502/in/dateposted-public/
Edwin
Posted by RideLeader at 17:52 BST
Updated: Sunday, 11 September 2016 18:01 BST