Saturday ride. Bognor Library To The Forge Tearooms Slindon.
A lovely sunny day today, sandwiched between a wet friday and a miserable Sunday. A strengthening wind was largely behind us and although some black clouds made a brief appearance, not a drop of rain fell.
15 at the start point, another excellent turnout. I led Alan Liz Bob Julian Suzanne Clair Steve Carol Michelle Dave, another Alan another Graham and another newcomer Shelley through the back of Bognor to North Felpham, through the new estate and Flansham village to the Barnham Cycletrack.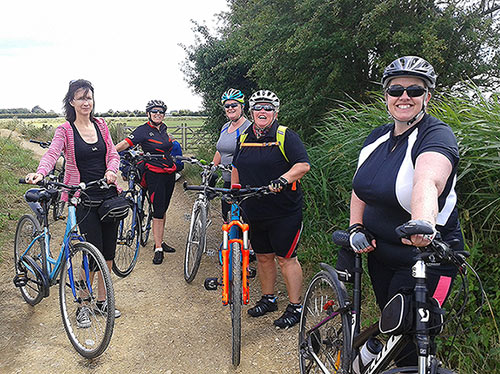 Almost at Barnham and a slight delay whilst a group effort resolved Dave's puncture. Some magic sealant resolved the problem.
Then it was back on the tarmac at Barnham church where a wedding was taking place and a fine vintage car waiting outside.
On to Walberton and we inspected the new cycletrack from Barnham taking shape at various points along the way. This will be a fine addition to the cycling network when completed.
West Walberton lane took us on a steady climb to Fontwell from where it was the tunnel under the A27 and then into Slindon woods for a short but very rideable off road lane, to avoid busy traffic in one direction or a steep hill in the other. We emerged onto park lane where it was a gentle climb in to Slindon and then dropping down to the Forge Tearooms.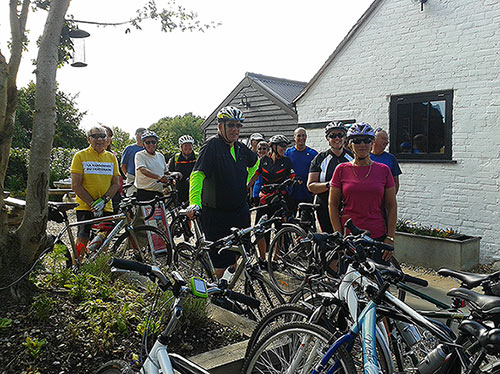 Our return route completed a circular ride crossing the A29 into Slindon Common Road, a bridleway to Shellbridge Road and an at grade crossing of the busy A27 to drop steadily down to Yapton then Middleton Felpham and back into Bognor.
The round trip mileage from and back to the start point, was almost exactly 19 miles.
Graham
Posted by RideLeader at 00:01 BST