Bognor Library to Littlehampton - Harbour Lights Cafe (Look-Sea Centre)
A lovely sunny day but an unexpectedly strong south westerly wind kept temperatures down lower than might be expected.

There were 10 riders at the start point and I led Alan, Liz, Carol, Steve, June, Bill, Suzanne, Harvey, and John Maxim around the back roads of Bognor through to Felpham and on to the Barnham cyclepath. Good to see John on a rare Saturday outing as he is one of the Sunday stalwarts and usually goes a lot faster than our short rides manage!
From Barnham we took Hill Lane to the windmill then into Yapton. Hill Lane has been recently commented on for its very poor road surface; i noticed today that a lot of the problem is caused by innumerable patching and repairing, i've never seen a road that has been patched so many times. It really needs a complete new surface. I would imagine, given the very small amount of traffic using it, that its never been resurfaced since the initial layer was put down in the 1940s.

After Yapton we took the bridlepath that cuts across Ford Aerodrome from Rollaston Park to Ford Lane. This also connects into Rudford Industrial Estate and although egress was not a problem we noticed two unfriendly concrete slabs have been placed across the path as it goes into the industrial estate. Presumably they are to stop motor bikes from racing around but they make cycling difficult too.

From Rudford it was down to meet the A259 and straight onto the cyclepath at Climping, crossing at the central refuge into Bridge Road, then across the footbridge into Littlehampton and our destination.

Armed Forces Day was being celebrated in Littlehampton and we watched as a Spitfire flew low across the town before dipping its wings and heading westwards. Unfortunately no photo but I did manage a shot from our front row view as the lifeboat returned from duties at sea and was hauled up to the lifeboat station.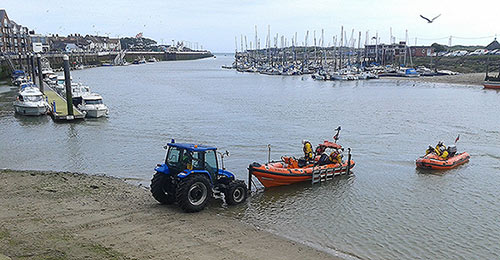 For our return, John left us to head back to Angmering, whilst we headed back over the footbridge and to Climping street via the School footpath. Harvey and Bill left us at this point heading for Barnham whilst the rest of us took our life in our hands for a mile of main road (not too busy fortunately) to drop into Middleton via Comet Corner and back to Bognor via Felpham.

Round trip mileage to and from the start point was 18.

Graham
Posted by RideLeader at 00:01 BST
Updated: Sunday, 28 June 2015 17:35 BST