Majorca. Sunday 10 May. Ride to Pollensa.

Today was bright and sunny with temperatures up to 26C.

After yesterdays bike transport problems today was the day of hired bike problems.Christine's bike had too low handlebars and Jim had problems too.

We rode first along the coast and on a cyclepath along the bay to Porto Pollensa and had a long elevenses while Christine and Jim and Irene went to the Bike Hire shop and got new bikes. Mike and Elizabeth met us there having got a bus.

We then continued on backroad cycle routes on quiet lanes to the inland town of Pollensa.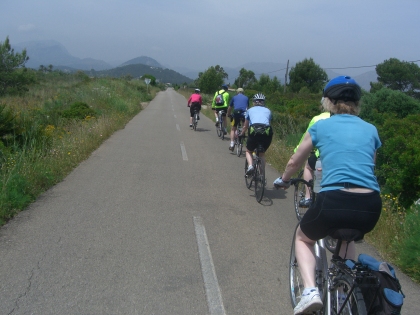 We stopped for lunch at a square by a church with a Market going on in full swing beside us. As we headed out of town there was Mike and Elizabeth walking up a street having caught a bus to Pollensa. We couldn't escape them.

For the return route I conferred with Avryl and comparing maps we agreed there was little relationship between the layout of roads on any 2 maps and many roads were missing. We decided to head in the right general direction to the left of a big hill.

The strategy worked quite well until we arrived at a junction where Avryl thought we were one place and in fact we were in another. We had a short interesting climb to a quarry and back down. We then found our way back to base.

26 miles for the day.

Edwin

Posted by RideLeader at 22:40 BST
Updated: Monday, 18 May 2009 14:37 BST