Sunday 5 December. Christmas Lunch Ride
Today due to expected icy rides I had emailed all Sunday Riders to telephone me Saturday evening if they were coming. Only Anne rang so I arranged to meet at 10.00 instead of the planned 08.30 and then rang other possibles to tell them. Gill also came to The Cross on foot to say hello.
The weather today was a little warmer than of late reaching a balmy 4C. The difference in weather on the coast compared to inland was especially noticeable today. On the coast it was clear blue skies while inland on the Downs it was low cloud and mist. On the coast on Friday evening the rain had cleared nearly all snow while inland there was enough left for fields to be covered.
I led Anne on a shortened route taking the B-Road to Funtington and then lanes via West Stoke. We could see the low cloud and mist hanging over the Downs as we rode in bright sunshine. Then it was on via Lavant and across to the B-Road up to the Trundel. We rode up into the clouds at the racecourse. I took the route along the top expecting this to be clear of snow as it is a busier route. Wrong. There were a number of Sections with snow although fairly slushy. We still kept it fairly slow though.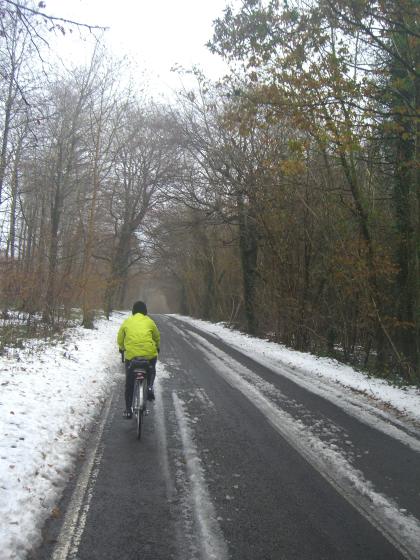 Then it was down a little way on the main road before turning onto the Eartham Road and down to Slindon Bottom Road through the woods and back into sunshine.
Then it was on to the Stable Bar at Fontwell for Christmas Lunch and a seat by an open fire to warm up.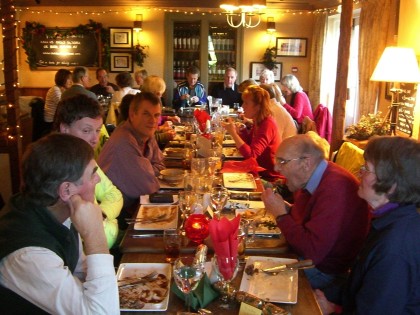 The alternative short ride which Arthur was going to lead had no takers. However Alan, Liz, Harvey, David and Keith rode there direct. There were 22 at the lunch altogether with the rest coming by car.
Edwin
Posted by RideLeader at 22:06 GMT
Updated: Monday, 6 December 2010 16:58 GMT