Sunday 21 May. Ride to East Meon
6 out in total for today's ride, originally scheduled for Lott's Cafe, Hambledon but switched on the day to the Isaak Walton at East Meon.
Russell was ride leader and he was joined by Edwin, Sam, Mike and Gary at Chichester Cross, with Chris meeting up for lunch.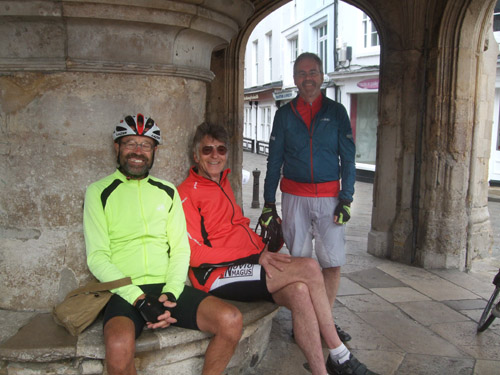 The group set off up Centurion Way, where Edwin, following his period of enforced inactivity, peeled off to do his own shorter recovery ride. Then it was the usual route through West Stoke and Funtington to the Village Cafe at Compton, encountering large groups of sportive cyclists heading in the opposite direction. Arrival at Compton indicated that many local cyclists were on the sportive ride - unusually there were no other cyclists at the cafe, a very rare occurrence.
Post elevenses ( Sam enjoying a monster slice of game pie and chutney), the group climbed the hill to Finchdean, encountering many more sportive riders before a steady climb to Buriton. By now the early morning freshness was giving way to more frequent sunshine, albeit with a gusty SE breeze.It was then a fast ride down into Buriton, Sam surprising a motorbike by passing it on the descent !
More quiet roads and we arrived in the picturesque village of East Meon, 10 minutes before opening time, bagging a table by the river.
Chris then joined us for lunch, having cycled a roundabout route from Chichester.
After lunch we rode due south from East Meon, along wonderfully quiet lanes, to the Mercury Park road. It was then past the Sustainability Centre for a rapid descent to Clanfield, following by more climbing up to Butser and another very fast descent to the QE park. Then the usual roads to Rowlands Castle and afternoon tea at the 'Tea on the Green' Cafe ( new name?), in increasingly warm sunshine (18C according to Garmin). We arrived back in Chichester around 3.30pm, having ridden 49 leisurely miles on a lovely early summer's day.
Russell
Edwin's Ride
I was not yet ready to do a full ride after my hip injury so I rode with the group up Centurion Way before splitting off at Lavant to do a circuit to home.
My ride was intended to be 20 miles but I ended up doing 30 miles. From Lavant I headed across via Halnaker, Aldingbourne, Fontwell and Walberton. I was down to the coast by soon after 11.00. Not being very up to date with local Events I came back via a path onto Bognor Prom only to find myself in the middle of the peak of the 10K Bognor Prom Race. I rode along slowly to get to an exit with a few good natured calls of cheating from spectators. An Ice Cream stop was taken at the Boathouse Cafe, Felpham.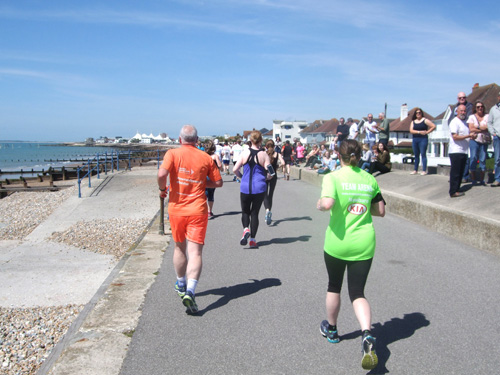 My latest shot to be processed taken last year shows a staircase in a block of flats in London with a couple of Bikes parked up.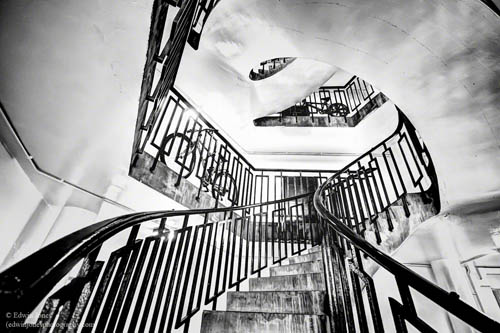 More details at
https://www.flickr.com/photos/edwinjones/34586374212/in/dateposted-public/
Edwin
Posted by RideLeader at 15:51 BST
Updated: Monday, 22 May 2017 10:23 BST