Saturday 28th January. Ride from Chichester Library to Hilliers Garden Centre Café, Fishbourne
Following an unpromising wet start, the weather cleared in the afternoon for a ride to Hilliers Garden Centre Café in Fishbourne.
Twelve cyclists gathered at Chichester Library, and a warm welcome was given to newcomers Bev & Colin, Kev and Chris, who normally went out on Saturday rides with the Bognor group.
The group headed west towards Westgate, over the Fishbourne crossing and then carried on until the end of the road, before heading through the A27 underpass towards the A259. After emerging from the underpass, everyone then took a sharp right to take the cycle path past Fishbourne Roman Palace, which then lead onto Salthill Road. The group then headed left towards the A259.
Heading west through Fishbourne, everyone turned left to go down Old Park Lane.
The group continued to head south towards Bosham Hoe, following the road around the coastline. An opportunity for a photocall presented itself on the west side of Bosham Hoe, as the group went along Shore Road, opposite the picturesque village of Bosham.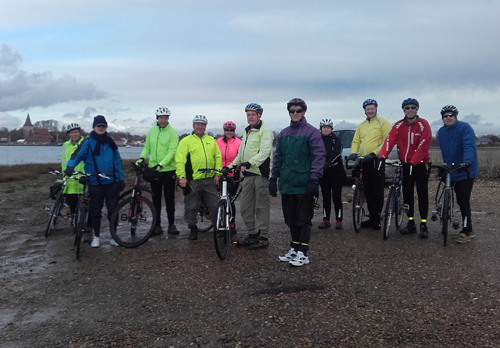 From here, everyone headed north through the east side of Bosham, picking up the marked cycle route and coming out onto the A259.

From there, it was a 5-minute ride to Hilliers Garden Centre Café.
Following an hour's worth of copious consumption of Victoria Sponge and cups of tea, the group headed back to Chichester along the A259 cycle route, arriving back at approximately 4 pm.
Philippa
Posted by RideLeader at 00:01 GMT