Sunday 13th December. Christmas Lunch Rides
There were 2 rides today. I led the early start Appetite Improver Ride and Richard led the short ride starting later. We were all ending up at Aldingbourne Country Centre Café for the Club's Christmas Lunch.
Weather today was very cold, dry with sunny spells in the morning and showers in the afternoon. Overnight low was 3C and it didn't get much above 6C during the day. I suffer from cold feet so having read a tip in Cycling Weekly recently I decided to give it a try. First Kitchen foil over the socks and then cling film over that. (it works for Turkeys so why not feet?) Anyway next it was the shoes and next Tesco plastic bags (re-cycling) and finally overshoes. The overshoes have the added benefit of hiding the kitchen foil sticking out from the shoes. It did seem to work for added warmth.
Anyway at the Cross at 8.30 just the usual hard riders were waiting, Gill and Anne.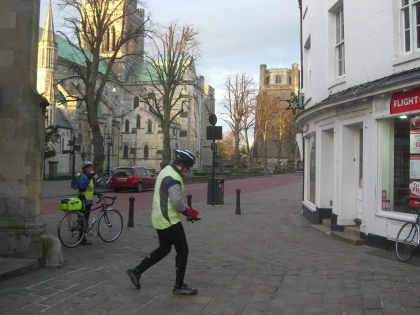 We headed out via Maudlin and the gradual climb to the ridge of the Downs at Pillygreen. Then it was along the ridge road with fine views down to the coast. Then it was along the main road via Upwaltham and a fine descent of Duncton Hill.
With less traffic than usual due to the earlier hour, for a change, I continued on the main road through Duncton Village before turning off on lanes via Burton Mill Pond. Then we rode another lane to Coldwatham. There were still floods in fields near the Arun but much less than last Sunday.
Then it was on to Wiggonholt and a welcome break after 2 hours hard riding. The Appetite Improving was working very well and a large bread pudding cake was very welcome. Not long before we left 6 riders from Horsham Cycling Club arrived.
The return was direct via Amberley and Houghton. Just before The Spur I turned off on a very steep climb to Slindon and then over to Aldingbourne. 40 miles just for the morning.
Richard was joined by just Harvey but more cycled there direct and some came by car. There were 18 in all for the lunch.
I headed home direct and my total mileage was 49. From and back to Chichester would have been about 40.
Edwin
Posted by RideLeader at 17:04 GMT