Sunday 6 September. Arun Crossings Ride to The Haven
I cannot report much on the Arun Crossings Ride as I decided not to take part in the event where 1 year ago today I fell off and broke my hip!
Instead I rode from home strictly on road to meet the group at elevenses and then lunch.
Weather today was generally cloudy but dry with a few short sunny spells and clearing by late afternoon. Temperatures were about 19C.
I rode north via Tangmere, Duncton Hill, Fittleworth, up The Mens Hill and down to Wisborough Green arriving with perfect timing just as the Arun Crossings riders arrived from the other direction. Colin was leading and was joined by Gill and Jeff from our Section, Bob from Horsham and from Arun Adur Dave Galle, Richard Boulton, Peter Wilson, Tony Yorke and Andy Davidson.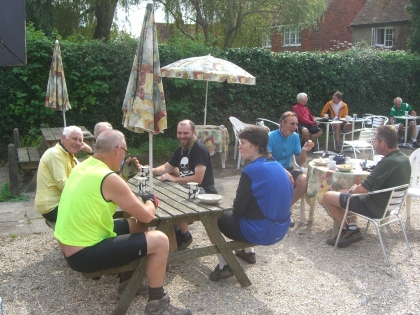 Barbara Nicol, John Maxim and Alan and Liz went direct to the Pub
After elevenses I again took the road route and after a bit of main road headed up the long byroad to The Haven, Just before getting there I caught up with Alan and Liz and we met John and Barbara at the Pub.
After a little while the off road group arrived and everybody settled down to lunch in the Garden.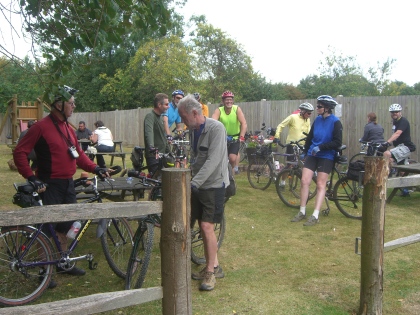 Getting ready to leave The Haven
After lunch Alan and Liz, John and I headed back south from the Pub. After a short while the off-road group emerged from a wood and we rode behind them a short while. When they turned off on another track Alan and Liz followed Colin to do a few crossings. I followed John at a brisk pace via Broadford Bridge and West Chiltington to stop for tea at Wiggonholt. We continued via Amberley and Houghton Hill and went our separate ways at the top of the hill.
My mileage for the day was 64.
Edwin
Posted by RideLeader at 21:42 BST