Sunday 18th October. Ride to The Harrow Inn, Steep, Nr Petersfield.
Today was a good sunny day all day but started really chilly with a definite taste of winter and temperatures of 0C to start the day later rising to 12C. The full gloves and ear warming headband got their first outing.
I was leading the long ride today and I was joined at Chichester Cross by Anne, Gill and Colin. Linda joined us later at lunch.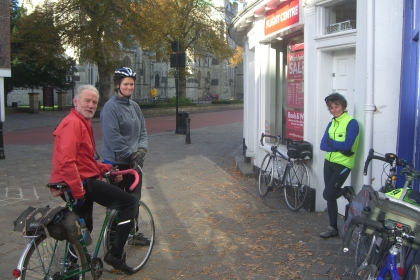 We rode out west from Chichester on the South Coast Cycle Route lanes via Woodmancote. Then in was over to Rowlands Castle and Finchdean. Here we started seeing the first Sportive Riders coming towards us. They were on the same route for a good part of the morning. This was a new Sportive, The Williers South Downs Sportive, the event had started in Chichester and the longer routes had ranged from Duncton and Uppark to Butser.
We headed on via Chalton and then the steep climb to the A3. Then it was down on the side road to Queen Elizabeth Country Park for elevenses. Apart from great cakes in the Café the shop there has also started selling bikes. We then headed on up to Butser climbing it from the gentle side. At the top there were great views down to the coast.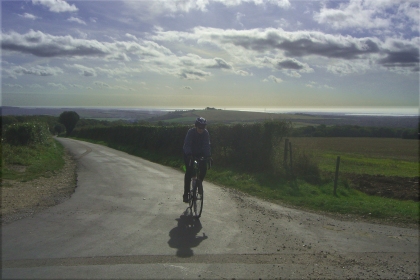 Then it was a steep descent to the Meon Valley and lanes via Ramsdean to Stroud. No planes in sight, this is the sleepy Hampshire version. Then there were a lot of ups and downs to the appropriately named village of Steep. We stopped for lunch at The Harrow Inn. This is a classic old style county Pub not yet given over to the booked tables and Sunday roast crowd.
We gained Linda here who had ridden over direct and lost Anne who had to get back early.
We headed back by skirting the edge of Petersfield and then a lane to Buriton where we joined the Sportive crowd, some seeming a little worse for wear after the epic ride.
At Buriton we tackled the steep climb. Then it was a gentle downhill through the woods with autumn colours much in evidence.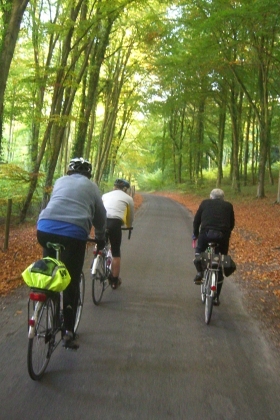 We gave Tea a miss and headed straight back via Rowlands Castle, Funtington, West Stoke and the Centurion Way.
Mileage from and back to Chichester was 51. My mileage for the day was 63.
Edwin
Posted by RideLeader at 20:13 BST