Sunday 28th February. Ride to Trotton
First well done to Steve and Carol Woods who as new leaders led the Saturday Ride yesterday and gained record support with 22 on the ride in all. The ride was an easy afternoon ride from Bognor Library to The Forge Cafe at Slindon. Scroll down to see the full report from Carol Woods.
Today the weather was dry with a cloudy morning and sunny afternoon with a strong very cold NE wind and temperatures up to 7C.
Colin was the leader and he was joined at Chichester Cross by myself, Sam Bob and Mike. Chris joined us at lunch so 6 out on the day.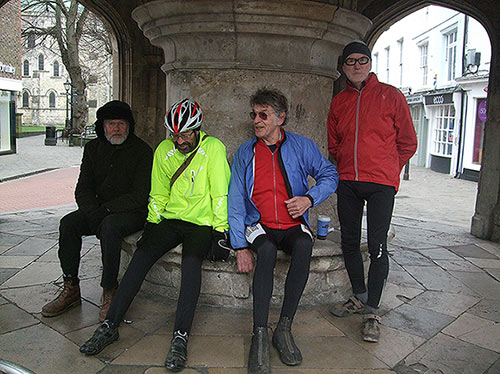 We headed out up the Centurion Way and then lanes via Charlton and East Dean all against the wind but accompanied for a while by a Red Kite flying alongside. After a short stretch of main road it was a fast descent of Duncton Hill and onto the quiet lane via Seaford College. As Bikes can get through we decided to ignore the sign about our Satnavs.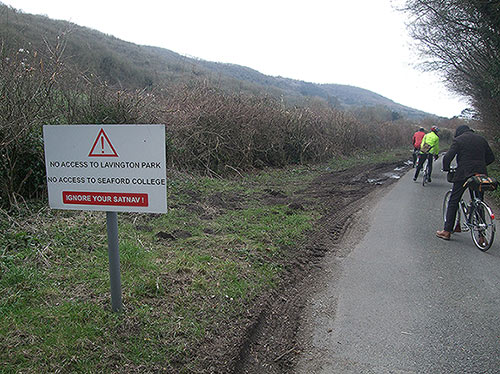 After riding through most of Graffham Village we stopped for Coffee at Graffham Village Stores. Luckily they now have some indoor tables allowing us to warm up.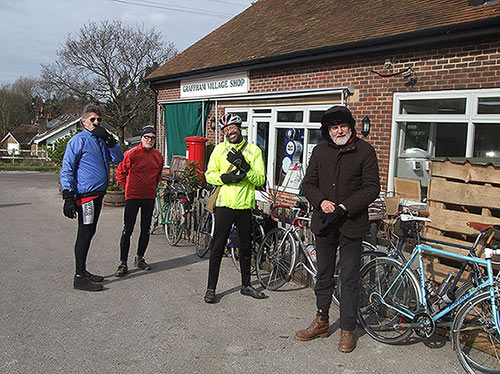 We continued on lanes via Selham and South Ambersham to Midhurst. We crossed the town and took another lane. Then it was more lanes via Woolbeding. At one point we stopped to regroup and Colin noticed a big fallen branch hanging from a telephone line. As a good deed Colin tried to dislodge it several time though in the end Mike was the one to succeed . It would be interesting to know how many locals received phantom phone calls during the procedure.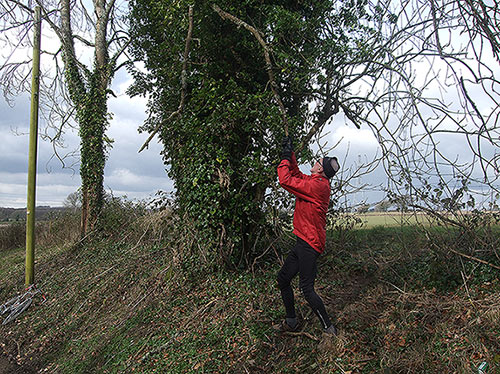 We continued with many ups and downs to Chithurst. Here Colin, Mike and I diverted to Chithurst Church to eat our sandwiches. The rest continued a short way to the Garden Centre Cafe at Trotton. The Church had a beautiful spot out of the wind with some sunshine overlooking the Rother Valley and we saw about 3 deer below us.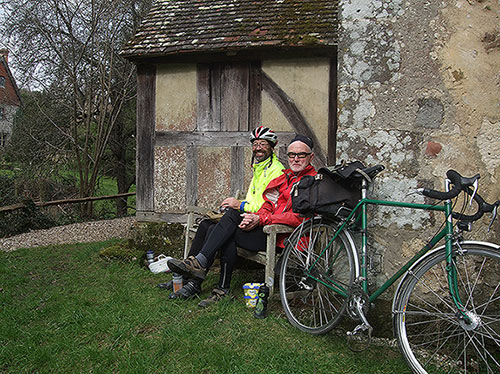 We regrouped with the rest and with Chris who had come direct at the Garden Centre.
After lunch we split up with Bob and I taking a more direct route home via Cocking Hill while Colin and the rest headed back via Nyewood, Goose Green and Ditcham Park Hill with a stop for tea at Rowlands Castle.
Bob and I had an interesting excursion on the way back. As most will know the South Downs National Park built an extension to the Centurion Way Cycle Path without having agreed an exit/entrance for it at West Dean. Now the National Park are in furious argument with the West Dean Estate about the exit with West Dean Estate putting up giant gates and barriers to stop anybody getting to the path, oh dear!! Anyway Bob told me he knew of a way onto the path at West Dean so I followed him to the point where a bridge takes the path over the lane by the School. People have made a sort of path up the exceptionally steep bank. Just about doable climbing up there with a bike. Not advisable as an exit as you would be likely to end up falling down into the road. The picture does not do justice to how steep it is.
After getting on the path we rode on about 50 yards to the end of the path and the boarded up West Dean Tunnel.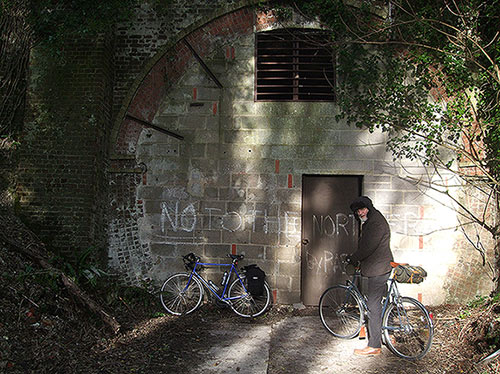 Then it was on following the new path to join the old path and on via Lavant. They have done a fairly good job of the new path which has a good surface.
I would estimate that the mileage of the main group from and back to Chichester was about 50. My mileage from and back to Pagham was 58.
My latest picture to be processed was of a Spiral Staircase at the new Newport Street Galleries near Vauxhall, London. Far more interesting than any of the artworks which adorned the Gallery.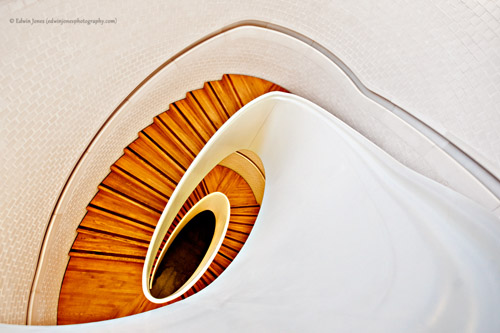 For a larger picture and more details see https://www.flickr.com/photos/edwinjones/25116141331/in/dateposted-public/
Edwin
Posted by RideLeader at 19:54 GMT
Updated: Sunday, 28 February 2016 20:47 GMT