Sunday 23 March. Ride to Hipley
The weather today was much colder than last Sunday at about 8C but a lot of the time was sunny with some roaming showers around. We only encountered a brief spell of light rain just before lunch and a hailstorm during lunch.
I was the leader of the long ride today and I was joined bright and early at 9.00 at Chichester Cross by Sam, Colin, Jeff, Anne, Roger, John Maxim, Andrew and newcomer Zara who is in training to do Lands end John 0'Groats in May. Andrew arrived late so is not in the picture. There were 9 out in all. There were also 6 out on alternative short ride to Climping so good numbers overall.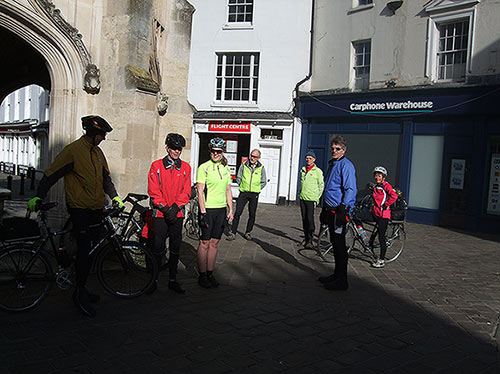 We headed out up the Centurion Way and on via West Stoke and the back road to Funtington. Then on via Racton and on to the Rowlands Castle road which is still closed due to flooding (river flowing across it) We avoided wet feet by using the pavement and ford footbridge. From Rowlands Castle it was lanes towards Blendworth and then a sharp descent to the Chalton road. After a long climb to the crossing over the A3 we stopped for elevenses in the sun at Queen Elizabeth Country Park Cafe.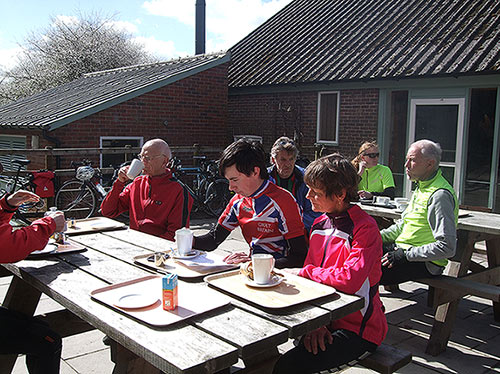 The second part of the morning involved some beautiful Hampshire back lanes. We headed via Clanfield and then lanes via Chidden and then lanes to the north and west of Hambledon via Hoe Cross and Hoe Gate to lunch at the Horse & Jockey, Hipley. Colin, Anne and I found a field for sandwiches, coping with a hailstorm in the process.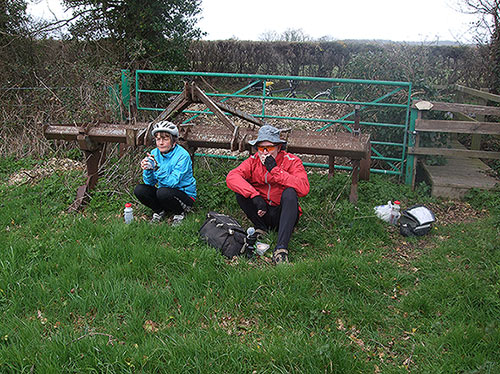 The rest had lunch at the Pub some inside and some in the smokers shelter/bike shed. The area was taken over by our bikes and those of another group.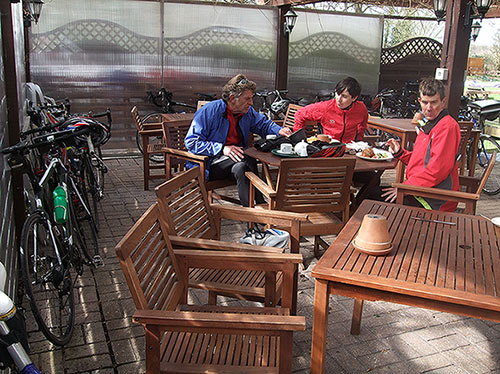 The return was on more lanes first via Forest Gate near Denmead and then via Cathrington and Horndean. Some of us stopped at Rowlands Castle for tea on the way back.
Return mileage from Chichester was 50 and my mileage from Pagham was 66.
My latest HDR pictures were taken in London a few weeks ago both at the Spiral Staircase at Heals Department Store, Tottenham Court Road. The first was looking down.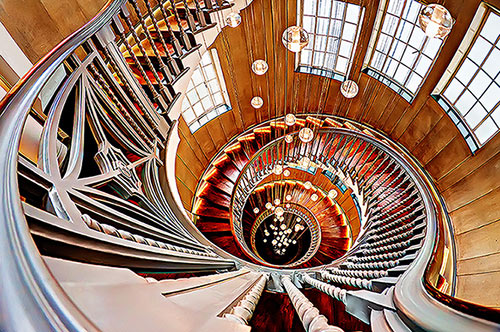 More info at http://edwinjonesphotography.com/blog/2014/3/spiral-down-heals
The second was looking up.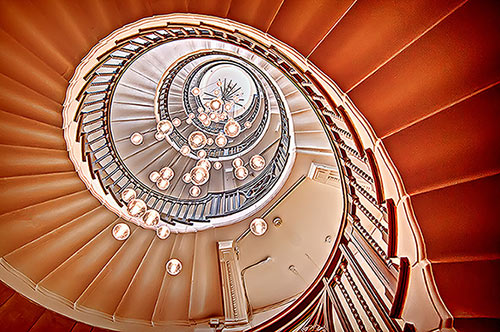 For a larger picture see http://www.flickr.com/photos/edwinjones/13304070104/in/photostream/
Edwin
Posted by RideLeader at 21:35 BST