Saturday 14 December - Bognor library to Brick Kiln Nursery, Merston

Despite being right in the middle of a busy Christmas shopping weekend, it was good to see people out enjoying the unseasonably mild weather on our last programmed Saturday ride of 2013.

We met at Bognor Library and i was joined by Steve and Carol, Julian, Alan & Liz, Debbie, David, and Richard, doing his first ever Bognor ride in the many years he's been a club member.

I took an inland course to avoid the strengthening south-westerly wind as much as possible, so it was back roads via Swansea Gardens to Aldwick, then Aldwick pond and onto the Lower Road. We diverted across the farm tracks at Butterlees, where for the first time in many years the exit gate was closed and padlocked. However egress was effected by the simple expedient of walking through the gap at the side.

At Merston we took Green Lane and on to the old airfield, now Chichester Food Park. However my plans to follow the old runway round to the Green Lane exit and emerge opposite Bognor Nursery were thwarted by another padlocked gate. Although this could have been negotiated quite straightforwardly, we decided to stay legal and instead continued onto the cycletrack at the Merston Lane Roundabout. From there a short sprint up the cycle path took us to the Brick Kiln.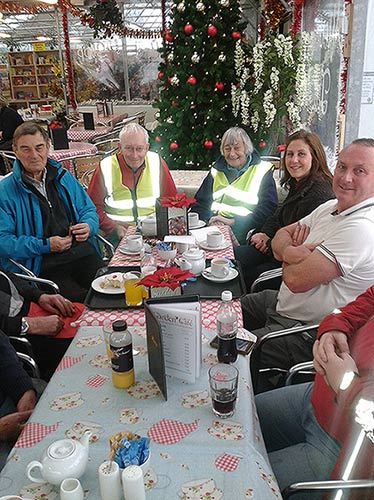 There we were greeted on arrival by complimentary mince pies, and also by Dave and Jan Parsons, who by coincidence had cycled out to the nursery on a shopping trip, forgetting that we were also headed there.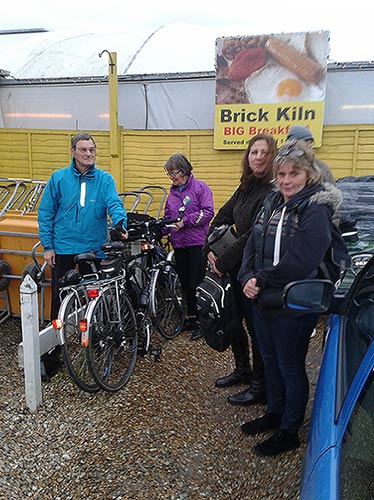 On the return ride, Richard Jan & Dave left for the Chichester direction, whilst the rest of us headed back to Bognor via the cycletrack, the Colworth loop (devoid of major puddles and flooding on this occasion) and to the new estate at Bersted, where we explored a new route that leads to Berry Lane and North Bersted Street. An interesting diversion away from the main road and worth bearing in mind for future occasions.
The round trip from Bognor was an easy 15 miles.

Graham
Posted by RideLeader at 15:43 GMT