Sunday 9th March. Ride to Wiston
Today the weather was exceptional with clear skies and sun dawn to dusk, light winds and temperatures more like summer reaching 17C. For Bognor the average for this date is 11C and the previous record is 13C.
Colin was the leader and he was joined at Walberton Pond by myself, Rex and Chris. Anne joined us at lunch making it 5 on the day.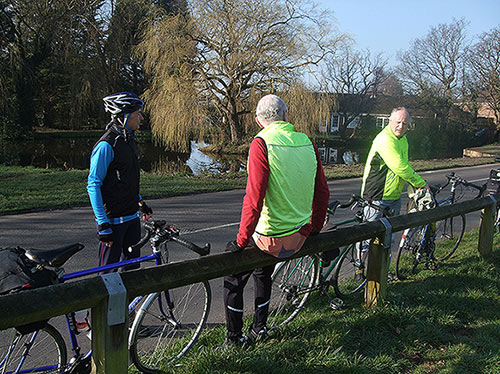 The outbound route was on the coast via Yapton and Littlehampton. We had started from Walberton at 9.00 and arrived at Littlehampton Footbridge at 9.30 just in time to chat with the Arun Adur group meeting for their ride a flat ride to Bracklesham. The weather and a flat ride had brought out their numbers with I think about 8 out.
We continued along the seafront road and then onto Colin's convoluted route through the private estates from Rustington to Ferring. To get though we had to get onto the Greensward by the beach to the Bluebird Cafe. This involves a pedestrian gate too tight for bikes and a vehicle gate the bikes had to be lifted over. The gate is always locked save that today after lifting all the bikes over we noticed it was unlocked – still we needed the upper body exercise!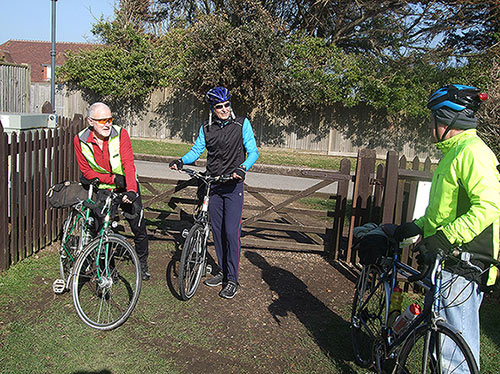 Even at 10.00 the Bluebird cafe was full. Early for elevenses so we kept going. On the lane between Ferring and Worthing we were going the same direction at a lot of runners on the Worthing 20 mile running race. The supporters cheered us on as well.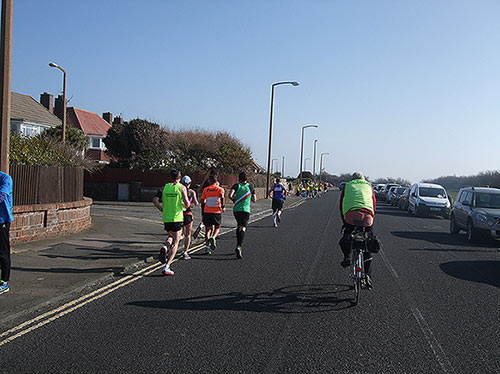 We followed the prom through Worthing and on to Lancing. Everybody was out, lots of cyclists, runners and walkers, like a busy summers day. We found a cafe with some available seats on the prom at Lancing.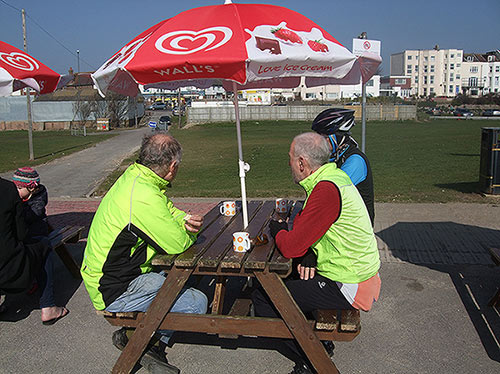 We continued on the prom to Shoreham. We had reached a back road when a cyclist coming the other way shouted at us "You shouldn't bring your bikes along here racing" oops, better slow down Colin. Still the man should know you don't race with saddlebags!
Then it was on past the Shoreham airfield, across the A27 and along Coombe lane to Steyning. Then it was up the Partridge Green road a little way before turning off on Spithandle Lane west to Wiston.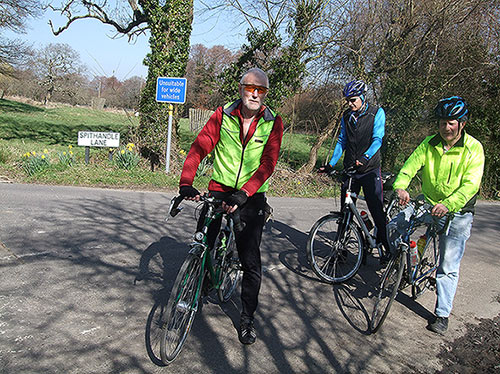 Colin, Rex and I had sandwiches at the Church before joining Chris and Anne at the Cafe.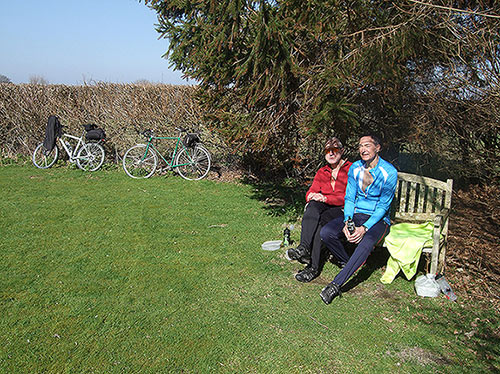 We got in a fair few more miles in the afternoon as Colin took us on a near circle, first back on Spithandle Lane and at Ashurst onto beautiful quiet lanes taking us via Dial Post, Whitehall near Shipley and then down a lane towards Ashington and then Thakeham and back via Parham Park. At Rackham as so often on the ride we passed many daffodils at the roadside.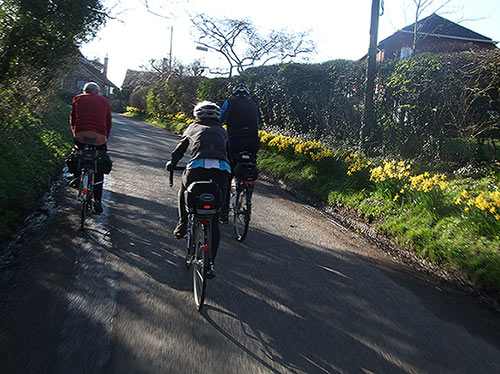 We stopped for tea at Houghton Bridge and met Dave Fox there, a refugee from the Arun Adur flat ride. The cafe there is waitress service and after waiting in the garden for 10 minutes for anybody to appear and a long way to get home we decided to give it a miss. I refueled on emergency rations from my saddle bag.
Then it was up Houghton Hill, the lanes round Madehurst and on to The Spur where we stared to split off to head for home. I returned via Yapton and Middleton and then the Prom with the sun still strong at 5.15.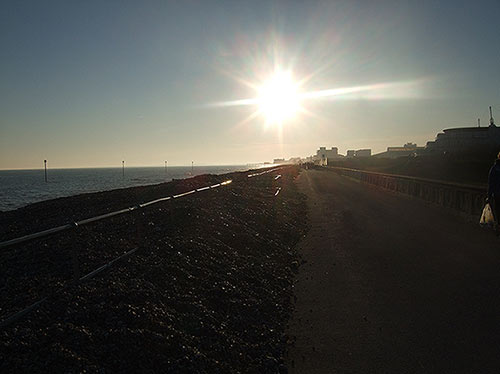 Mileage from and back to Walberton Pond was about 60. My round trip mileage from Pagham was 80.
My latest HDR pictures were taken in London last Monday. Both were of the new Premier Inn at Blackfriars which has a great Spiral Staircase. The first picture is looking down and the second looking up.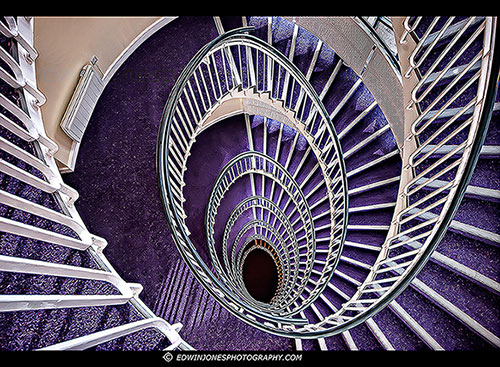 More details and a larger picture at
http://www.flickr.com/photos/edwinjones/12943875285/in/photostream/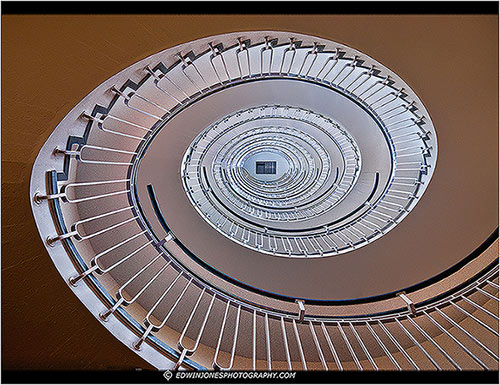 More details and a larger picture at
http://www.flickr.com/photos/edwinjones/12985622635/in/photostream/
Edwin
Posted by RideLeader at 21:43 BST
Updated: Sunday, 9 March 2014 21:50 BST