Sunday 30th June. Arthur's Flat 100 mile Ride
The weather was quite good for the year's 100 mile ride. It started misty and cloudy but cleared to a good sunny day, not too hot and a brisk SW wind.
The start was 7.00am and Arthur was joined at Chichester Cross by Lynn, Peter, Avryl, myself, Brian, Diane, Graham, Martin and Tim so 10 out for the day.
First for what I would call the northern loop we headed east via Tangmere, Waterbeach, Westerton, Westhampnett and back to Chichester to start the Western loop. At the end of West Street and the Pedestrian rail crossing we saw the new bridge was nearly finished though not yet open.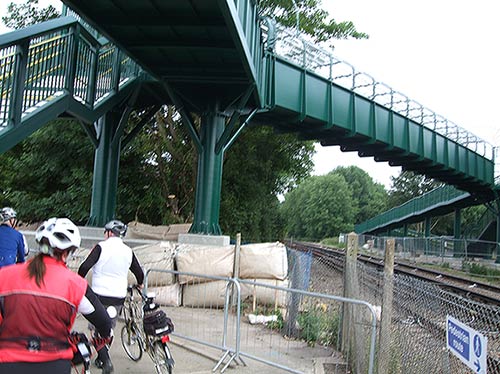 Then it was on to the loop of lanes round Bosham Harbour and then another loop down to Chidham. Then lanes via Hambrook and Southbourne before a welcome breakfast stop at the Boaters Bar, Prinsted.
After breakfast we hit the road again.
Onwards via Emsworth and then Westbourne, Southbourne and Hambrook. Another loop via Chidham before returning to Bosham for a brief stop and then heading out again.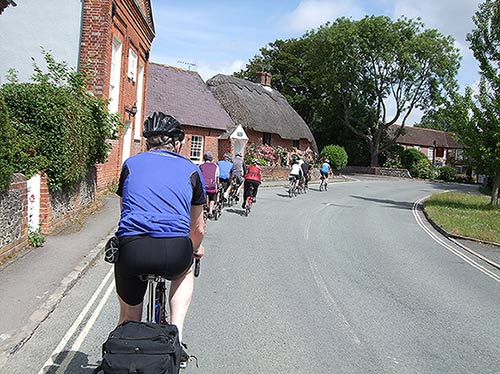 It was then a shorter loop from Bosham without going round the Harbour. Then it was Fishbourne and Apuldram and the Salterns Way across fields.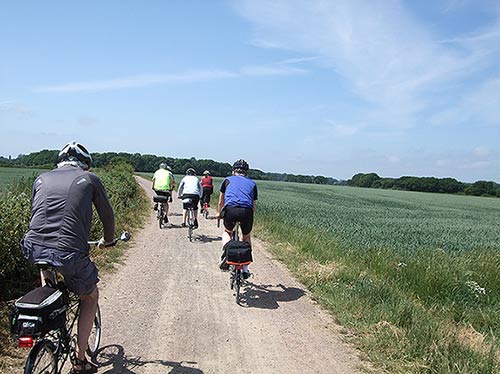 Then on round to the Yacht Basin and an encounter with a Swan by the canal which hissed at the passing cyclists as she protected her chicks.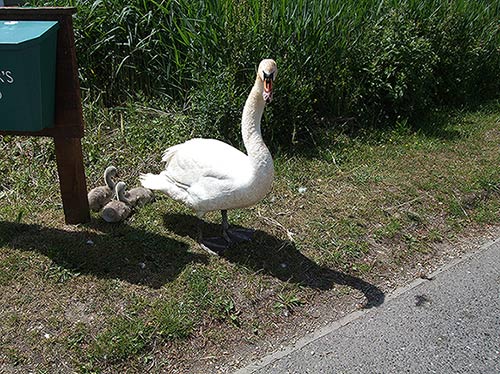 Then it was Birdham Pool and Birdham before heading down the main West Wittering road before turning off on a backroad across to East Wittering and a welcome lunch break at the Boulevard Café, East Wittering. 50 miles down 50 to go!
There was a pleasant lunch stop on the patio area.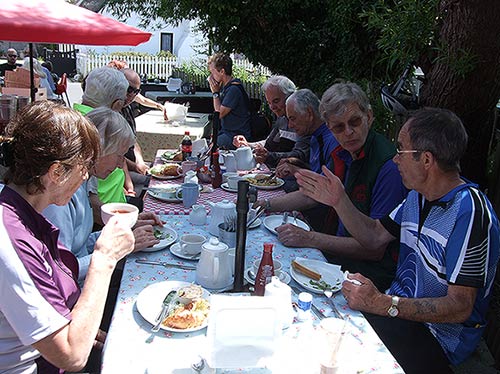 After Lunch Lynn and Diane kept up with the world on their smartphones, too engrossed to notice their pictures being taken, sorry!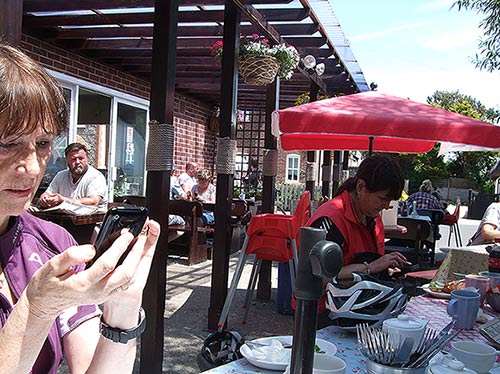 Next it was lanes via Earnley and on to Hunston and North Mundham and a short break outside North Mundam Church.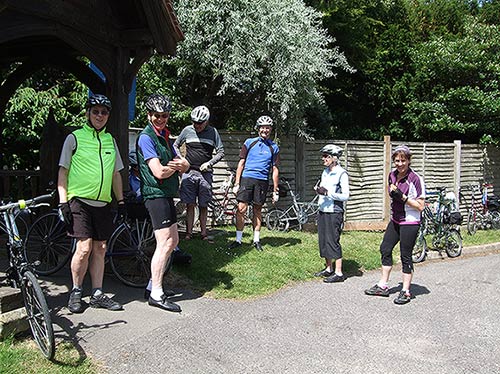 I had decided before starting that as I have ridden 100 miles before many times that I would have a shorter day. Now being on the lanes home this proved a convenient point to turn off as we went past South Mundham.
I do not know the rest of the route but the plan was to head to the Look and Sea Centre, Littlehampton for tea and then back to Chichester to complete the 100 miles.
My mileage for the day starting from Pagham was 68.
Below is my latest HDR picture to be processed taken on a Photographic day trip to London of Heals Department Store Spiral Staircase. For more details see my Photo Blog at http://edwinjonesphotography.com/blog/2013/6/heals-golden-spiral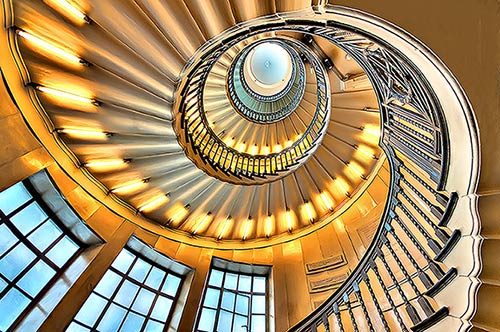 Edwin
Posted by RideLeader at 19:17 BST
Updated: Sunday, 30 June 2013 19:27 BST