Sunday 21 April. Ride to Midhurst
Today the weather was mainly sunny though with a chill wind and temperatures up to 13C, Out of the wind in the sun it felt quite warm.
Sam was the leader and he was joined only by myself and Samantha. Note that as Samantha likes to be called Sam but as that would be a bit confusing I will call her Samantha in this Blog.
Sam led us east out of Chichester pas Goodwood Airfield and lanes round to Waterbeach and then up Pillygreen Hill. A stop at the top enabled a quick picture.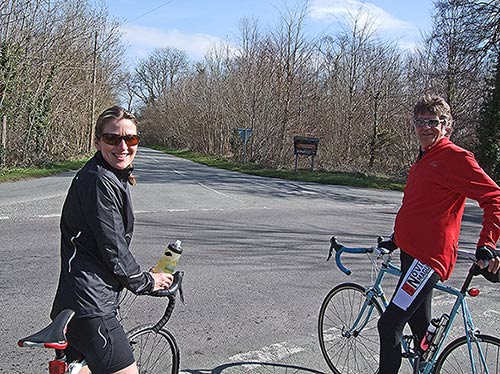 Then it was down to East Dean and the pleasant winding lane across to Upwaltham. Then it was a short way on the main road and a fast descent of Duncton Hill, both Sam and I got to 45 mph. Sam was especially pleased to set off the electronic Slow Down sign normally aimed at motorists.
Then it was along the pleasant back road to Seaford College.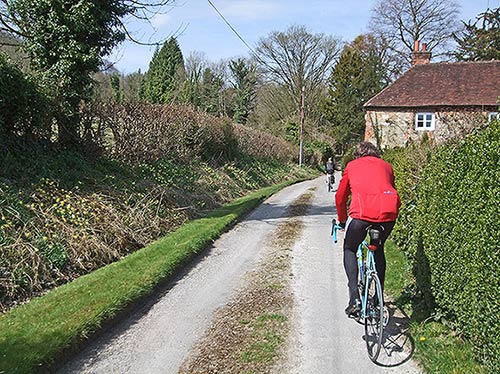 As we went past Seaford college Sam was getting increasing problems with his gears. We stopped near Grafffham Church for a quick gear tweak. Picture courtesy of Samantha.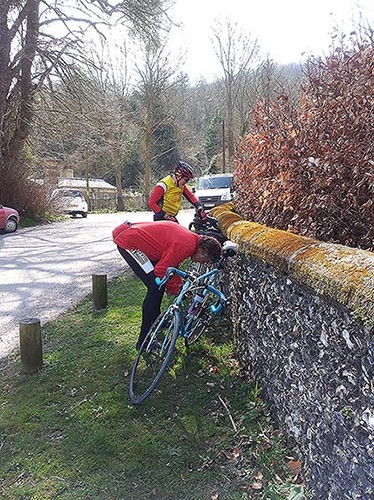 We continued to Graffham Village shop for elevenses, the first time I had tried this for hot drinks. This was a pleasant stop in the sun and out of the wind.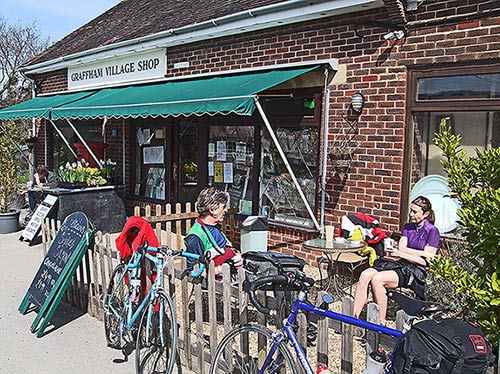 We continued on lanes towards Selham and Sam celebrated the top of the hill.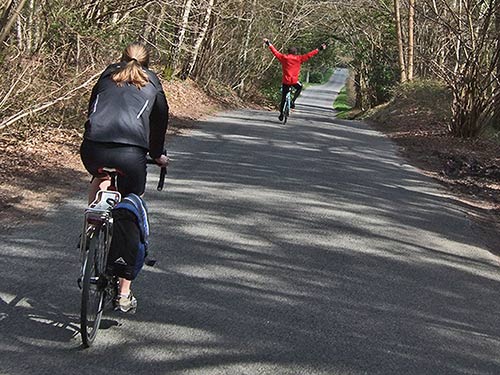 It was then more lanes past Cowdrey Polo fields and on to Midhurst to stop for lunch at The Tea Pot Cafe and a pleasant stop in the sun at the back.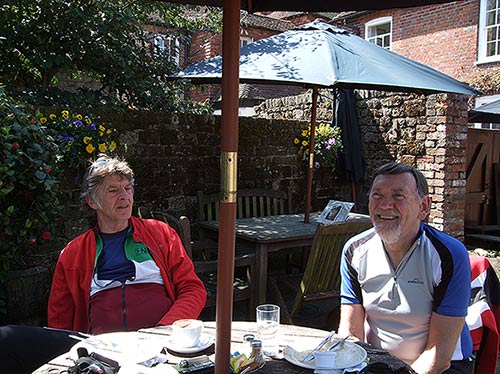 The return route was via Trotton and lanes via Didling and a tea stop at the Pub at Cocking. Then it was up Cocking hill discovering only as we passed it that Cocking Tea rooms have now re-opened. Times are 10.00 to 5.00 weekends only.
Mileage from and back to Chichester was spot on the estimate of 40 miles, well done Sam. My mileage from Pagham was 53.
Cycling Road report - Tis the season for road dressing especially locally. Based on roads I have seen recently these roads are going to be uncomfortable to cycle on for the next week or more
The road to Yapton from the crossroads at Middleton
Merston Lane
Westhampnett Road starting from the Hotel Roundabout
From tomorrow Chalcraft lane and Hewarts Lane, North Bersted to Rose Green.
Note that after 3 months I have finished and published on Amazon my first Ebook which is a beginners guide to composing Better Pictures. This will be on free promotion on Amazon this coming Friday for 24 hours. I will email Club members with more details about getting it free on Thursday. Meantime the Books Amazon page is Compose Better Pictures:Amazon UK
My latest 2 HDR pictures are from my last London Trip. The first one was in the Greenwich Foot Tunnel and the second was of the DLR platform at Bank underground Station.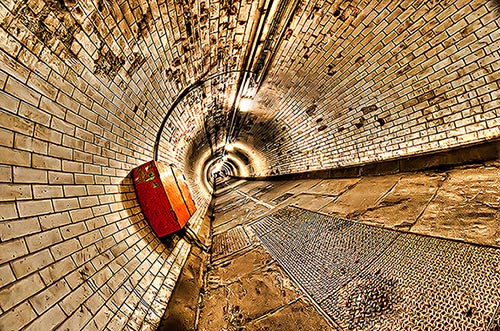 ..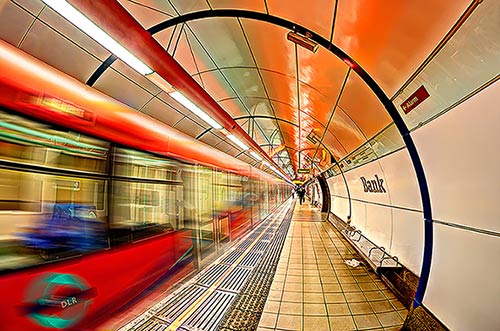 Edwin
Posted by RideLeader at 19:50 BST
Updated: Sunday, 21 April 2013 20:18 BST