Sunday 21 December. Ride to Prinsted
The weather today was overcast and dull with a very light drizzle, hardly enough to wet the ground. Temperatures were up to 11C. Arthur was the leader and he was joined by Lynn, myself, Graham, Sam and Bill and arriving after the picture was taken were, Russell, Keith, Alan, Liz and Bob so 11 in all. The picture was taken by a stallholder nearby so the author gets in the picture for a change.
We headed out via West Street and then the Clay Lane route before descending straight to Bosham and the Arcade Cafe for elevenses. We gave a miss to the harbor road today as it was under water with high tide.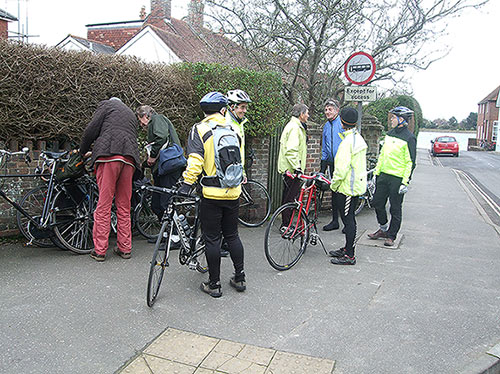 We continued by returning to the main road and after a ride along the adjoining cycleway turned off on the lane via Chidham. As we returned to the main road we started seeing frequent groups of Santas on bikes. This is part of a traditional ride from Hayling Island. In the picture are 2 lady Santas, well, women Bishops so why not, though a real lady Santa might have problems with the beard.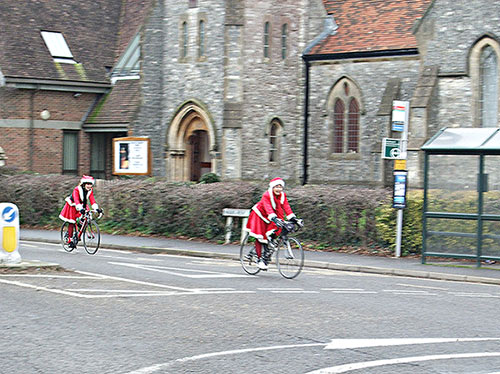 We continued on the lane to Prinsted and lunch at the Boaters Bar which provided the usual enormous portions.
On the way back we returned on lanes via Southbourne, Hambrook and West Ashling Lane to return to Chichester on the South Coast Cycle route. Mileage from and back to Chichester was 21. My mileage from Pagham was 34.
A week ago Saturday I cycled with cameras and tripod on a very cold and clear evening to a lane which runs into a bridleway from Halnaker crossroads. It has some skeletal trees which made for a great foreground for a Star Trails picture. Taken with a fisheye lens.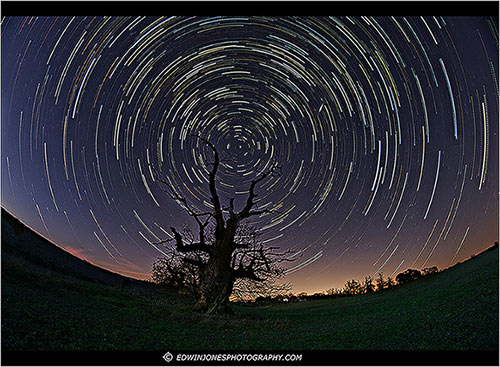 For more on Star Trails see my Photo Blog at http://edwinjonesphotography.com/blog/2014/12/halnaker-downland-star-trails
Another picture to be processed was taken on a London trip early this month looking from the north at Canary Wharf.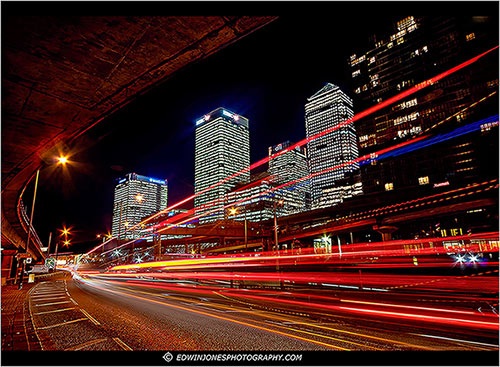 For a larger picture and more details see https://www.flickr.com/photos/edwinjones/15861058990/in/photostream/
Edwin
Posted by RideLeader at 17:19 GMT