Sunday 12th October. Ride to Lott's Cafe, Hambledon
Sam was due to lead the ride today but he had recently had his opp done on his hernia so the baton was passed to Colin. Sam came to see us off. Those joining Colin were myself, Rex, Mark and Andrew.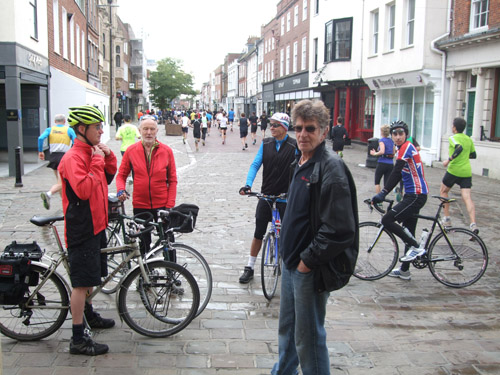 Getting started proved a bit of a logistical problem. Our start time of 9.00 coincided with the start of the Chichester Half Marathon as nearly 1000 runners poured up West Street and either side of Chichester Cross.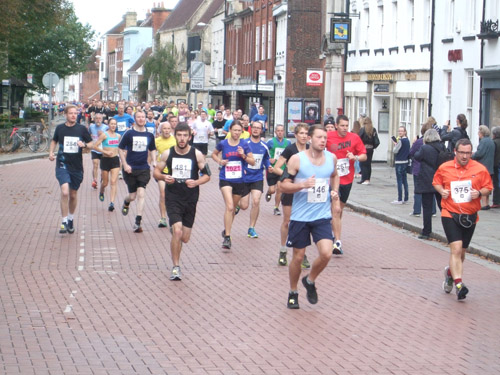 We managed to get across without any collisions and Colin did a diversion to get around the race before rejoining West Street and on via Clay Lane and on via the South Coast Cycle Route lanes via Woodmancote. We continued between the woods on the lane towards Rowlands Castle where Andrew gave a patriotic look to our group in the picture.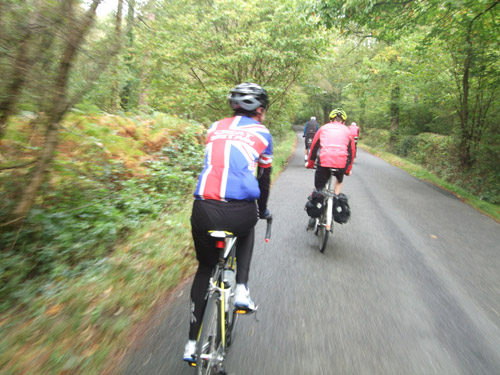 Then it was a convoluted route on lanes via Blendworth to Horndean and on to Catherington. Everybody had assumed we were going to elevenses at Sam's original planned stop of Queen Elizabeth Park Cafe without thinking to ask Colin. As we were now well off course I ask Colin and it turned out his plan was to the Cafe by HMS Mercury on top of the hill.
I had decided to make it a half day ride today to avoid overdoing it with my knee. I had hurt that 3 weeks ago in the early morning with no street lights and being dazzled by the lights of an oncoming car hit the curb on a corner and came off. That was not helped by immediately going on a 12 day cycle tour in France!
I decided to head back before the hill going up to Mercury and stopped for my elevenses on my return at Rowlands Castle.
Despite cutting short the ride my mileage from Pagham was 48.
Below is a picture taken in France of Peter Wilson and Richard Boulton riding along the towpath of the Canal du Midi in Southern France near Carcassonne. The picture has been converted to look like a painting using a software plugin for Photoshop.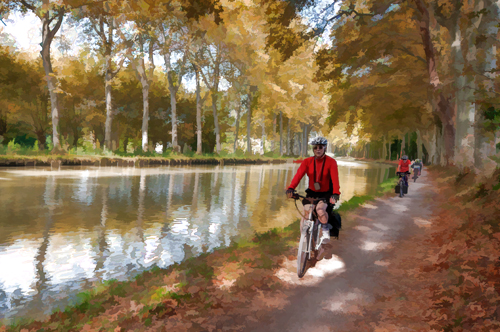 Edwin
Posted by RideLeader at 16:46 BST