Sunday 9th May. Ride to Northchapel.
I was leading the long ride today and as I rode up to Chichester Cross there ahead of me was a great gathering of about 200 cyclists…What's going on? Has our turnout suddenly escalated. Do they all really want to ride to Northchapel?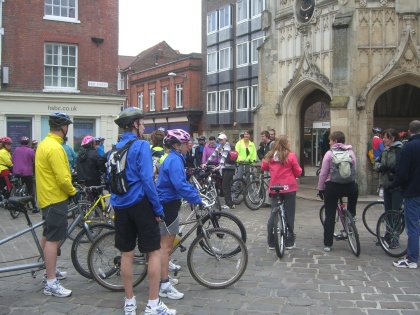 No, it turns out they were all waiting to start the Salterns Way Charity Ride to West Wittering for St Wilfred's Hospice. Missed a trick there. Didn't have 200 Rides Lists to hand out.
Our turnout was more modest at 7 with Anne, Gill, Colin, Jeff, Avryl and Rex joining me. The Mayor of Chichester was there to see off the Charity Riders. He then had a chat to Jeff, good to have friends in high places! We sort of got seen off by the Mayor, heading off soon after 9.30.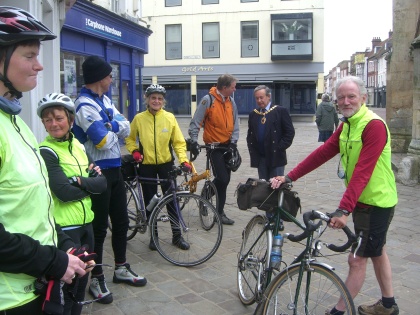 The route had to be a little different from normal due to the Goodwood Duathlon. Run Cycle and then run. This had involved a lot of roads near Goodwood being closed for the morning.
There was a slight surfeit of cycling events this morning. As well as the all important CTC ride to Northchapel there was the Charity Ride, The Duathlon and two Sportives. We met riders from the 133 k Duncton Sunday Sportive near Eartham. This did a circuit East –West between West Meon and Parham. Then north of Petworth we saw signs for the South West Road Club May Flyer Sportive which did a North – South circuit starting at Cobham and going as far south as Amberley.
To avoid the Duathlon roads I took a route via Tangmere, Halnaker and Eartham. Then it was down Duncton Hill and lanes to Petworth for elevenses. It was very chilly, about 13C with a NE wind. We met Arun Adur riders at Tiffins just as they were leaving. We were due to meet again for lunch at Northchapel.
After elevenses I took quiet lanes vial Balls Cross and lanes up to Northchapel. Apart from Jeff we all had sandwiches on the Green and then went into the Pub to join the Arun Adur riders.
Getting ready to leave outside Colin entertained us with a little dance to keep warm, well not exactly dance, more jumping up and down.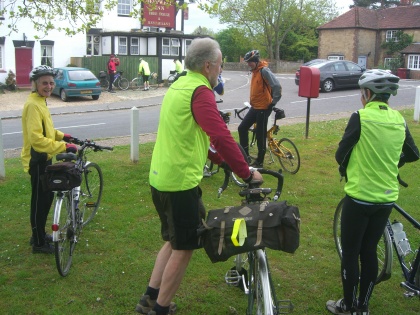 Richard, Paul and Tony York went a little out of their way to join us for tea at Cocking. We left Northchapel on a lane towards Lurgashall. There was a steep little climb though woods filled with a beautiful display of bluebells.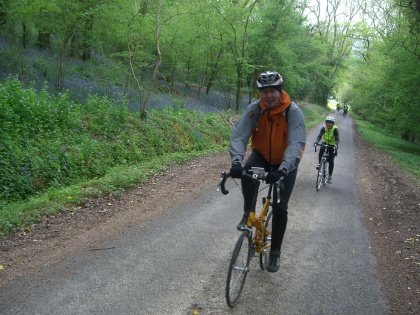 We continued via Lodsworth, Selham and Heyshott and then the backroad to Cocking where we filled up the Moonlight Café. Then it was a short climb up Cocking Hill and a long descent to Singleton. We split up here with most heading via East Dean while I led Avryl and Jeff down the Centurion Way.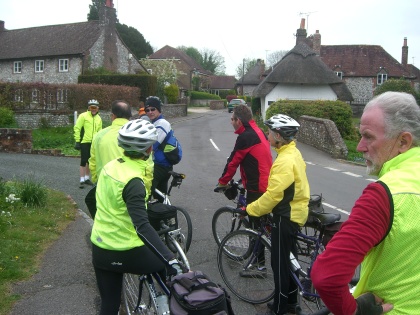 Mileage from and back to Chichester was 50. My mileage was 61.
Ride to West Wittering
Arthur led a shorter ride gathering a flock of 15. Arthur and Lynn, Alan and Liz, Barry, Dave, Jan, Sonja, Dawn and Fred and 5 of Arthur's friends from the Moulton Club.
They stopped for elevenses at Chichester Yacht basin and with their 10.00 start managed to avoid the massed charity riders.
Edwin
Posted by RideLeader at 22:59 BST
Updated: Monday, 10 May 2010 11:20 BST